RISCO RVCM52W1400A 2MP VUpoint P2P IR IP camera, 2.8mm lens
Merken:
RISCO
Artikelnr #:RVCM52W1400A
Model #: RVCM52W1400A
Naam: RISCO RVCM52W1400A 2MP VUpoint P2P IR IP Camera, 2.8mm Lens
Network camera - Helps achieve high-quality video results
Provides night vision of objects at a distance of up to 30 m
Up to 1920 x 1080 video resolution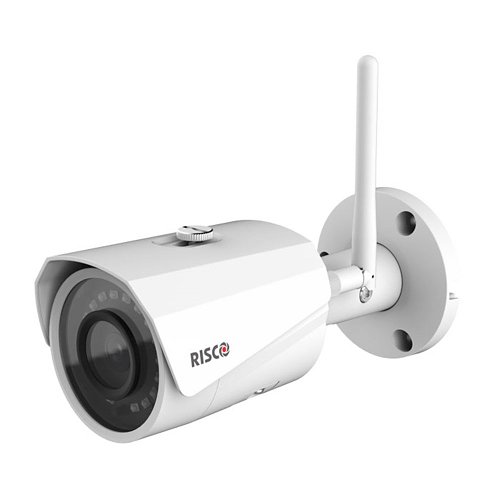 Productoverzicht
Algemeen Informatie
Risco VUpoint P2P IP Cam: Bullit, 2MP, Wifi, MicroSD, IR verlichting: max. 20m, 12VDC, voeding niet bijgeleverd Vupoint bullit Wifi IP Camera voor binnen & buiten. Deze 2 Megapixel IP camera heeft de nieuwste P2P technologie voor een eenvoudige Plug & Play installatie op de Risco cloud zonder port forwarding, de camera is dag/nacht en heeft IR led's voor nachtzicht tot op 20m. De voeding is niet inbegrepen.
Main Features
Network camera - Helps achieve high-quality video results
Provides night vision of objects at a distance of up to 30 m
Up to 1920 x 1080 video resolution
Can be accessed from anywhere; this wireless security camera is easy to install
Categorie : Video, Bullet Camera's, Producten, IP Camera's
Specificaties
Algemene Informatie
Productnaam
VUpoint 2MP WiFi Bullet Camera
General Information
Technical Information
Technische Informatie
Effectieve cameraresolutie
Camera
Connectiviteitstechnologie
Night Vision Distance (mm)
Display & Graphics
Energie
Lens
Maximale brandpuntafstand
Netwerk & Communicatie
Opslag
Physical Characteristics
Storage
Uiterlijke kenmerken
Miscellaneous
Kenmerken
Built-in Microphone, Sabotagealarm, SD Card Local Storage
Overige