AXIS Q1700-LE Q17 serie, IP66 2MP 18-137mm varifocale lens nummerplaat bullet camera, grijs
Merken:
AXIS Communications
Artikelnr #:01782-001
Model #: 01782-001
Naam: AXIS Q1700-LE Q17 Series, 2MP Zipstream License Plate Camera, 18-137mm Lens, IP66, Grey
Designed for third-party software
Sharp license plate images day and night
Handle speeds of up to 130 km/h (81 mph)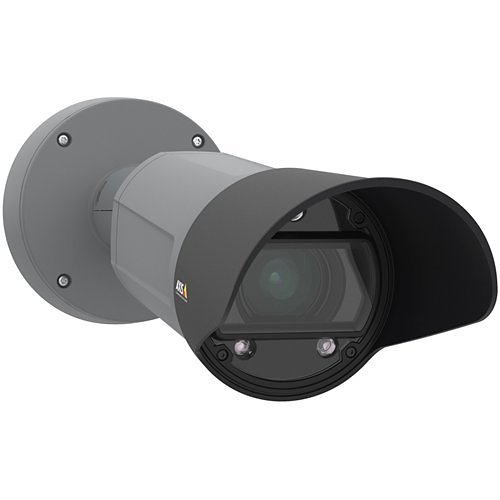 Productoverzicht
Algemeen Informatie
De AXIS Q1700-LE kentekencamera levert heldere en scherpe kentekenplaatbeelden van voertuigen die met hogere snelheden rijden tot 130 km / h (81 mph) dag en nacht. Dankzij een ingebouwde assistent voor het vastleggen van kentekenplaten is de camera eenvoudig in te stellen en beeldinstellingen worden automatisch aangepast aan snelheid, installatiehoogte en voertuigafstand in een specifieke verkeersscène. Een robuust ontwerp zorgt voor een betrouwbare werking onder extreme weersomstandigheden en bij windkrachten tot orkaanniveau. De camera is ontworpen voor gebruik met edge- of serversoftware van derden voor kentekenherkenning en acties triggeren.
Main Features
Herkennings bereik 20 - 50 meter tot 130 km per uur
Lightgevoeligheid kleur: 0.16 lux, B/W: 0.03 lux
2MP, audio, I/O
Geschikt voor ANPR software van derden
Scherpe kentekenplaten in HDTV 1080p / 2 MP
Geoptimaliseerd IR-bereik tot 50 m (164 ft)
8x optische zoom
Horizontaal gezichtsveld van 16 ° - 2,3 °
Ontworpen voor software van derden
Categorie : Bullet Camera's, Video, IP Camera's, Producten
Specificaties
Algemene Informatie
Productnaam
Q17 Q1700-LE Netwerkcamera
Technical Information
Gezichtsveld
Horizontal field of view: 16°-2.3° - Vertical field of view: 9.6°-1.3°
Maximum Focal Length (mm)
Minimale brandpuntafstand
Technische Informatie
Videoformaten
H.264 (MP), H.264 (MPEG-4 Part 10/AVC), H.264 BP, H.264 HP, Motion JPEG, PAL
Beeldscherm
Belichting
Camera
Connectiviteitstechnologie
Night Vision Distance (mm)
Display & Graphics
Minimum Illumination (lux)
Energie
Exposure
Interfaces/Poorten
Lens
Maximale brandpuntafstand
Netwerk & Communicatie
Omgeving
Maximale gebruikstemperatuur
Maximum Operating Temperature (°F)
Minimale gebruikstemperatuur
Minimum Operating Temperature (°F)
Opslag
Physical Characteristics
Duurzaamheid
Impactbestendig, Schokbestendig, Zoutbestendig
Product Information