AXIS P1455-LE P14 serie, WDR IP66 2MP 3-9mm gemotoriseerde lens IP bullet camera, wit
Merken:
AXIS Communications
Artikelnr #:01997-001
Model #: 01997-001
Naam: AXIS P1455-LE P14 Series, WDR IP66 2MP 3-9mm Motorized Lens IP Bullet Camera, White
Lightfinder 2.0 and Forensic WDR
OptimizedIR up to 40 m (131 ft)
AXIS Object Analytics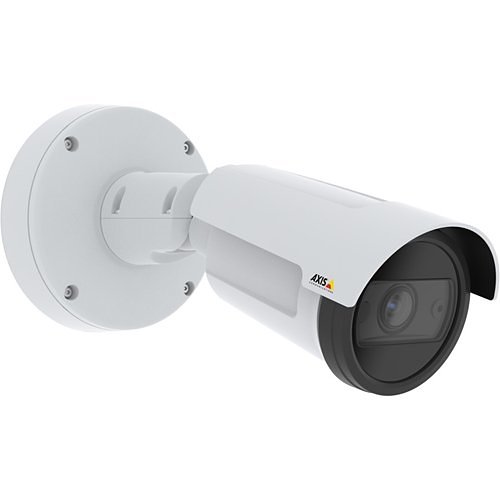 Productoverzicht
Algemeen Informatie
AXIS P1455-LE biedt een uitstekende beeldkwaliteit in HDTV 1080p tot 60 fps. Met Axis Lightfinder 2.0 en Axis Forensic WDR het levert ware kleuren en geweldige details in uitdagend licht of bijna duisternis. AXIS Object Analytics laat je detecteert en classificeert mensen en voertuigen. En, met edge-to-edge technologie, biedt het slimme koppelingsfunctionaliteit, inclusief tweeweg audio met Axis Network Speakers. Aan beweging aangepaste belichting vermindert de bewegingsonscherpte van naderende of nabije objecten aanzienlijk, en OptimizedIR maakt bewaking in pikkedonker mogelijk. Verder Axis Edge Vault beschermt uw Axis-apparaat-ID en vereenvoudigt de autorisatie van Axis-producten op uw netwerk.
Main Features
Outdoor Bullet 2MP 50fps, IR Led's H.265
Groothoek zoom lens 114° - 37°
Lichtgevoeligheid kleur 0,07lx mono 0,01lx, 0lx IR on
WDR 120dB
Lightfinder 2.0 en Forensic WDR
Geoptimaliseerde IR tot 40 m (131 ft)
AXIS Object Analytics
Verbeterde beveiligingsfuncties
Zipstream met ondersteuning voor H.264 / H.265
Categorie : IP Camera's, Video, Producten, Bullet Camera's
Specificaties
Technische Informatie
Effectieve cameraresolutie
Gezichtsveld
Horizontal field of view 114°-37° Vertical field of view 58°-21°
Maximum Focal Length (mm)
Minimale brandpuntafstand
Beeldscherm
Effective Camera Resolution (Pixel)
Belichting
Camera
Connectiviteitstechnologie
Night Vision Distance (mm)
Garantie
Interfaces/Poorten
Lens
Maximale brandpuntafstand
Netwerk & Communicatie
Omgeving
Maximale gebruikstemperatuur
Maximum Operating Temperature (°F)
Minimale gebruikstemperatuur
Minimum Operating Temperature (°F)
Opslag
Productinformatie
Montage
Junction Box Montage, Muurbevestiging, Plafondsteun
Projectielens
Minimum Focal Length (mm)
Uiterlijke kenmerken