ComNet PS-DRA60-48A Industriële DIN Rail montage 60 Watt bij 48V voeding
Merken:
ComNet Communications
Artikelnr #:PS-DRA60-48A
Model #: PS-DRA60-48A
Naam: ComNet Communications PS-DRA60-48A 60W at 48V Industrial DIN Rail Mounting Power Supply
Mounts on standard 7.5 or 15 mm DIN-rail
Adjustable output voltage range support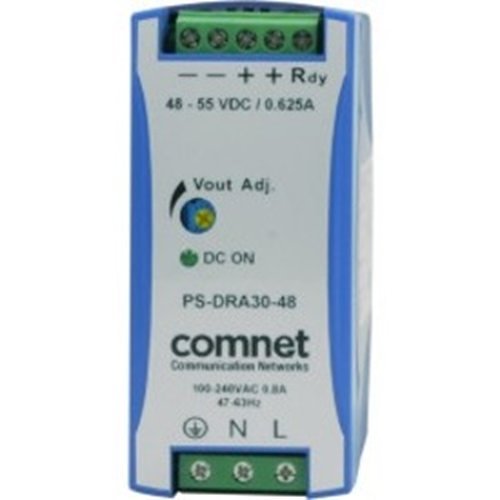 Productoverzicht
Algemeen Informatie
The ComNet™ PS-DRA Series offer a complete range of high quality, low noise switching mode power supplies of various output sizes ideally suited to the entire ComNet industrial product range that require 48VDC power input. These rugged units are DIN rail mountable, providing an ideal mounting configuration to a mating ComNet industrial switch or any product using our range of DIN rail mounting adapters. The wide ambient operating temperature range permits installation in most out of plant and unconditioned environments, such as those found in intelligent transportation systems or factory automation/industrial control applications. Unconditional line and load protection is provided.
Main Features
48 VDC 60 Watt (1,25A)
DIN Rail High Temp Power Supply (-40°C to +71°C with -40°C Start-Up)
For PoE Applications
Screw Terminals
Categorie : Voedingen, Batterijen & Voedingen, Producten
Specificaties
Algemene Informatie
Productnaam
Industrial DIN Rail Mounting 60 Watt 48 Volt Power Supply
Technische Informatie
Energie
Garantie
Uiterlijke kenmerken
Overige
Compatibiliteit
Dual Radio Wireless Ethernet Devices: