Hikvision DS-2CD2046G2-I Pro Series, Acusense 4MP 2.8mm vaste lens IP bullet camera, wit
Merken:
Hikvision
Artikelnr #:311315198
Model #: DS-2CD2046G2-I(2.8MM)(C)
Naam: Hikvision DS-2CD2046G2-I 4(2.8mm)(C) MP AcuSense Fixed Mini Bullet Network Camera, 2.8mm
Network camera - Helps achieve high-quality video results
Provides night vision of objects at a distance of up to 40 m
CMOS sensor is cheaper as compare to CCD and consumes less power while producing better HD videos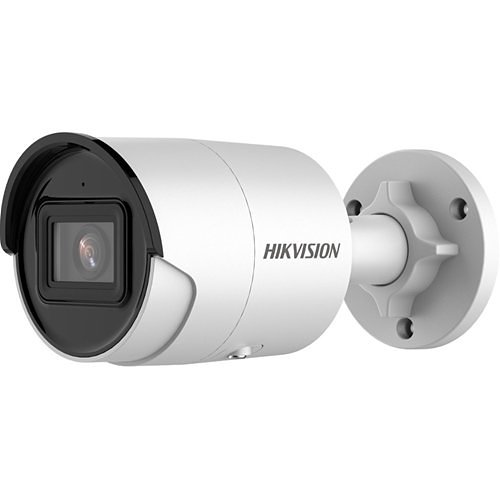 Productoverzicht
Algemeen Informatie
Main features
Resolutie: 4 Megapixel
Lens: 2.8-12 millimeter motorized (98°-28°)
Nachtvisie: 30 meter
Beschermingsgraad: IP67 & IK10
Lokale SD opslag
DWDR
Beveiligingseisen variëren. Dat is de reden waarom Hikvision netwerkcamera's ontwerpt en op maat maakt om aan verschillende behoeften te voldoen - van algemene videobewaking tot analyse van video-inhoud op basis van Deep Learning-algoritmen - en meer.
Onze netwerkcamera's zijn de ideale keuze voor honderden toepassingsscenario's, omdat ze beelden van hoge kwaliteit weergeven in een reeks lichtomstandigheden, terwijl de vereisten voor opslag en bandbreedte worden geminimaliseerd. Bovendien bieden ze op gegevens gebaseerd situationeel bewustzijn om u te helpen slimme beslissingen te nemen.
Main Features
Network camera - Helps achieve high-quality video results
Provides night vision of objects at a distance of up to 40 m
CMOS sensor is cheaper as compare to CCD and consumes less power while producing better HD videos
Categorie : IP Camera's, Producten, Bullet Camera's, Video
Specificaties
Algemene Informatie
Productnaam
AcuSense 4 MP IR Fixed Bullet Network Camera
Technical Information
Gezichtsveld
horizontal FOV 103°, vertical FOV 55°, diagonal FOV 123°
Maximum Focal Length (mm)
Technische Informatie
Effectieve cameraresolutie
Videoformaten
H.264+, MJPEG, Motion JPEG, PAL, Smart H.265+
Belichting
Camera
Connectiviteitstechnologie
Night Vision Distance (mm)
Display & Graphics
Effective Camera Resolution (Pixel)
Energie
Interfaces/Poorten
Lens
Maximale brandpuntafstand
Netwerk & Communicatie
Omgeving
Maximale gebruikstemperatuur
Maximum Operating Temperature (°F)
Minimale gebruikstemperatuur
Minimum Operating Temperature (°F)
Physical Characteristics
Product Information
Productinformatie
Storage
Uiterlijke kenmerken
Miscellaneous
Kenmerken
3D Digital Noise Reduction, Back Light Compensation (BLC), Built-in Card Reader, Cross Line Detection, Enter/Exit Detector, Highlight Compensation (HLC), HTTPS Encryption, Ontwaseming, Password Protection, Region of Interest, Sabotagealarm, SD Card Local Storage, Tampering Alarm, Wachtwoordbescherming
Overige