Hikvision DS-2TD2628-7-QA Heatpro Series, IP67 4MP 6.4mm vaste lens, IR 30M Thermal IP bullet camera, wit
Merken:
Hikvision
Artikelnr #:305401574
Model #: DS-2TD2628-7/QA
Naam: Hikvision DS-2TD2628-7-QA Heatpro Series 4MP IR Thermal IP Bullet Camera, 6.4mm Fixed Lens, White
256 × 192 resolution, 12 μm, VOx UFPA, NETD < 40 mK (25°C, F1.0)
Video content analysis: vehicle/human classification
Temperature exception alarm for fire prevention, -20°C to 150°C (-4°F to 302°F), ± 8°C (± 14.4°F)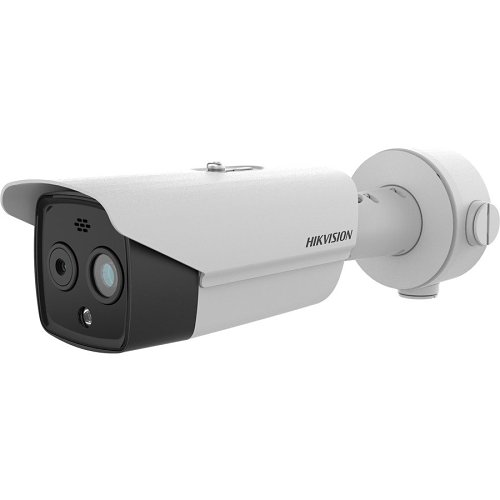 Productoverzicht
Algemeen Informatie
Hikvision DS-2TD2628-7/QA Thermal & Optical Bi-spectrum Network Bullet Camera supports video analysis for perimeter protection, and also temperature exception alarm for early fire prevention. With the deep learning algorithm, it can realize high precision VCA detection and real-time alarm. These camera series can be widely applied to villas, communities, parking lots, warehouses, construction sites, waste incineration plants, manufacturing workshops, etc.
Main Features
256 × 192 resolution, 12 μm, VOx UFPA, NETD < 40 mK (25°C, F1.0)
Video content analysis: vehicle/human classification
Temperature exception alarm for fire prevention, -20°C to 150°C (-4°F to 302°F), ± 8°C (± 14.4°F)
Up to 2688 x 1520 video resolution
Categorie : Bullet Camera's, IP Camera's, Producten, Video
Specificaties
Algemene Informatie
Productnaam
Netwerkcamera HeatPro DS-2TD2628-3/QA
Technical Information
Gezichtsveld
24.9°(H) x18.7°(V), 53.0°(H) x28.0°(V)
Maximum Focal Length (mm)
Technische Informatie
Videoformaten
Motion JPEG, PAL, Smart H.265+
Beeldscherm
Type thermische beeldsensor
Ongekoelde focal plane arrays van vanadumoxide
Belichting
Camera
Connectiviteitstechnologie
Night Vision Distance (mm)
Display & Graphics
Energie
Interfaces/Poorten
Lens
Maximale brandpuntafstand
Maximale brandpuntsafstand van warmtelens
Maximum Thermal Focal Length (mm)
Netwerk & Communicatie
Omgeving
Maximale gebruikstemperatuur
Maximum Operating Temperature (°F)
Minimale gebruikstemperatuur
Minimum Operating Temperature (°F)
Opslag
Physical Characteristics
Productinformatie
Montage
Muurbevestiging, Plafondsteun, Verticale bevestiging
Uiterlijke kenmerken
Video
Thermische videoresolutie
Miscellaneous
Kenmerken
3D Digital Noise Reduction, Built-in IR LED, Overspanningsbeveiliging, SD Card Local Storage, Sterkteregeling, Temperatuursensor, Witbalans
Overige