AXIS Q6100-E Q61 serie, IP66 5MP 2.8mm vaste lens IP PTZ camera, wit
Merken:
AXIS Communications
Artikelnr #:01711-001
Model #: 01711-001
Naam: AXIS Q6100-E Q61 5MP Series 360° Network Camera with PTZ Control, 2.8mm Fixed Lens, 60Hz,White
360° camera with one-click PTZ control
4 x 5 MP sensors, total 20 MP resolution
Exchangeable and tiltable lenses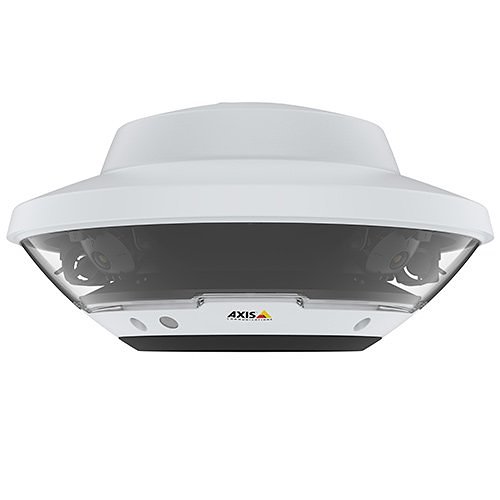 Productoverzicht
Algemeen Informatie
Met vier 5 MP-sensoren biedt de AXIS Q6100-E een compleet 360 ° -overzicht met een uitstekende beeldkwaliteit, dag en nacht. Ontworpen voor gebruik met elke camera uit de AXIS Q61-serie, maakt PTZ-bediening met één klik en automatische piloot voor automatische PTZ mogelijk voor tracking binnen de kijkgebieden. Directionele audiodetectie geactiveerd door audio-incidenten leidt de PTZ-camera om naar de audiobron. Elke sensor heeft verwisselbare lenzen met autofocus voor maximale flexibiliteit en nauwkeurige configuratie. De AXIS Q6100-E gebruikt dezelfde beugel, voeding en netwerkkabel als de aangesloten camera uit de AXIS Q61-serie voor een kostenefficiënte installatie.
Main Features
360 ° camera met one-click PTZ control
4 x 5 MP-sensoren, totale resolutie van 20 MP
Verwisselbare en kantelbare lenzen
Vereist een camera uit de AXIS Q61-serie
Directionele audiodetectie inbegrepen
Categorie : PTZ Camera's, Video, IP Camera's, Producten
Specificaties
Algemene Informatie
Productnaam
Q61 Q6100-E Netwerkcamera
Technical Information
Gezichtsveld
Horizontal field of view: 360° Vertical field of view: 84°
Maximum Focal Length (mm)
Technische Informatie
Effectieve cameraresolutie
Videoformaten
H.264 (MPEG-4 Part 10/AVC), H.265 (MPEG-H Part 2/HEVC), PAL, Smart H.265+
Beeldscherm
Belichting
Camera
Connectiviteitstechnologie
Display & Graphics
Effective Camera Resolution (Pixel)
Minimum Illumination (lux)
Exposure
Interfaces/Poorten
Lens
Maximale brandpuntafstand
Netwerk & Communicatie
Omgeving
Maximale gebruikstemperatuur
Maximum Operating Temperature (°F)
Minimale gebruikstemperatuur
Minimum Operating Temperature (°F)
Physical Characteristics
Product Information
Productinformatie
Montage
Muurbevestiging, Parapet Mount, Plafondmontage, Plafondsteun, Plafondsteun DS-1299ZJ, Wandsteun
Storage
Uiterlijke kenmerken
Miscellaneous
Kenmerken
Audio Detection, HTTPS Encryption, Password Protection, PTZ, Sabotagealarm, SD Card Local Storage, Tampering Alarm, Wachtwoordbescherming
Overige