AXIS M5000-G M5000 serie, WDR 5MP 4.7-47mm gemotoriseerde lens IP PTZ camera, wit
Merken:
AXIS Communications
Artikelnr #:02187-002
Model #: 02187-002
Naam: AXIS M5000-G M5000 Series, 5MP Zipstream 10x Optical Zoom IP PTZ Camera, 4.7-47mm Motorized Lens, IP51, White
For remote surveillance needs, this network camera is best suited
Features RGB CMOS sensor
Up to 1920 x 1080 resolution for surveillance in real-time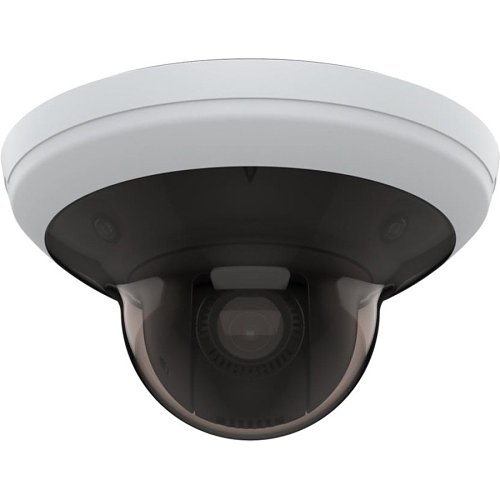 Productoverzicht
Algemeen Informatie
AXIS M5000-G PTZ-camera beschikt over drie 5 MP-sensoren en één PTZ-camera met 10x optische zoom voor totale situationele bewustwording van binnenruimtes tot 400 m2 (4300 ft2). Met alles weergegeven op één monitor, kunt u met één klik van overzicht naar gedetailleerde weergaven gaan. Het biedt draadloze I/O-connectiviteit met Z-Wave Plus®-apparaten om te communiceren met maximaal zes apparaten in een systeemopstelling, bijvoorbeeld de temperatuur in diepvriezers bewaken of lichten in-/uitschakelen. Met de AXIS M5000-G profiteert u van de voordelen van vier camera's terwijl u slechts één camera installeert.
Main Features
Indoor 15MP panoramische PTZ Camera 30fps, audio
PTZ: 10× Zoom lens 61.8° – 6.7°
Lichtgevoeligheid Kleur: 0,1 lux B/W: 0.01 lux
Panoramische view camera's
Z-Wave for smart home devices
3x 5 MP sensoren voor situationeel bewustzijn
Totaaloverzicht, ingezoomde details
Dekt binnenruimtes tot 400 m2 (4300 ft2)
10x optische zoom met HDTV 1080p
Z-Wave voor smarthome-apparaten
Categorie : Video, Producten, PTZ Camera's, IP Camera's
Specificaties
Algemene Informatie
Productnaam
M5000-G PTZ Network Camera
Technical Information
Gezichtsveld
Horizontal field of view: 61.8°-6.7° Vertical field of view: 36.3°-3.8°
Maximum Focal Length (mm)
Minimale brandpuntafstand
Technische Informatie
Effectieve cameraresolutie
Videoformaten
H.264B, H.264B (MPEG-4 Part 10/AVC), H.264H, H.264H (MPEG-4 Part 10/AVC), H.264M, H.264M (MPEG-4 Part 10/AVC), H.265 (MPEG-H Part 2/HEVC), Motion JPEG, PAL, Smart H.265+, Zipstream
Beeldscherm
Belichting
Camera
Connectiviteitstechnologie
Display & Graphics
Effective Camera Resolution (Pixel)
Interfaces/Poorten
Lens
Maximale brandpuntafstand
Netwerk & Communicatie
Omgeving
Maximale gebruikstemperatuur
Maximum Operating Temperature (°F)
Minimale gebruikstemperatuur
Minimum Operating Temperature (°F)
Opslag
Physical Characteristics
Product Information
Projectielens
Minimum Focal Length (mm)
Storage
Uiterlijke kenmerken
Miscellaneous
Kenmerken
Audio Detection, Built-in Microphone, HTTPS Encryption, Password Protection, Privacy Masking, PTZ, Removable IR Cut-off Filter, Sabotagealarm, Videobeheersysteem, Wachtwoordbescherming, Witbalans
Overige