Connectix EZ-C6-UTP CAT6 Easy Plugs, UTP RJ45, 100-pak
Merken:
Connectix Cabling Systems
Artikelnr #:EZ-C6-UTP
Model #: EZ-C6-UTP
Naam: Connectix EZ-C6-UTP CAT6 Easy Plugs, UTP RJ45, 100-Pack
Gold Plated Contacts
Three prong terminal for both wire and solid wire stranded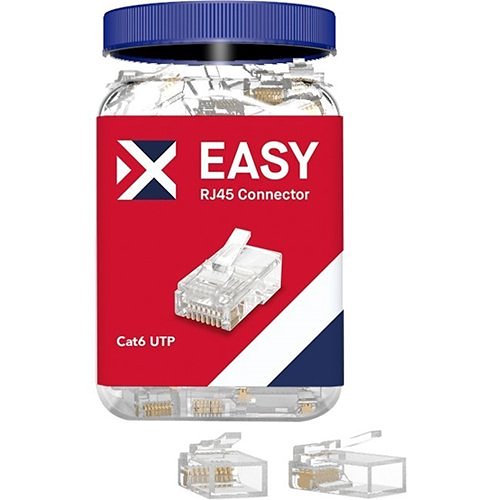 Productoverzicht
Algemeen Informatie
Marketinginformatie
Pot = 100 UTP connectoren.
Gemakkelijk om RJ45 568A of 568B kleurcode te verifiëren. Aders gaan door de connector heen en worden door de krimptang afgeknipt.
Vergulde contacten
Drie-polige aansluiting voor zowel massieve draad als gevlochten draad beëindiging
Gebruik voor de beste resultaten Connectix Easy RJ45 Krimptang
Geschikt voor Cat 5 en 6 voor binnen en buiten kabel.
Connectix Easy RJ45-connectoren zijn ontworpen met het oog op snelheid en precisie. De modulaire UTP-stekkers zijn gemaakt van hoogwaardig technisch plastic met messinggoud over vernikkelde contacten. Met de krimptool kunt u een plug in één knippen, strippen, krimpen en beëindigen zonder verspilling of rommel.
Main Features
Gold Plated Contacts
Three prong terminal for both wire and solid wire stranded
Categorie : Data Comm & Netwerken, Kabelverbinders, Producten, Netwerk Kabel Connectoren
Specificaties
Technische Informatie
Interfaces/Poorten
Type aansluiting
RJ-45 Netwerk - Mannelijk
Overige