Dahua SD49225XA-HNR WizSense, Starlight IP66 2MP 4.8-120mm lens, IR 100M 25x Optical Zoom IP PTZ camera, wit
Merken:
Dahua Technology
Artikelnr #:SD49225XA-HNR
Model #: DH-SD49225-HNR-ZB
Naam: Dahua SD49225XA-HNR WizSense Series, Starlight IP66 2MP 4.8-120mm Lens, IR 100M 25x Optical Zoom IP PTZ Camera, White
Provides night vision of objects at a distance of up to 100 m
CMOS sensor is cheaper as compare to CCD and consumes less power while producing better HD videos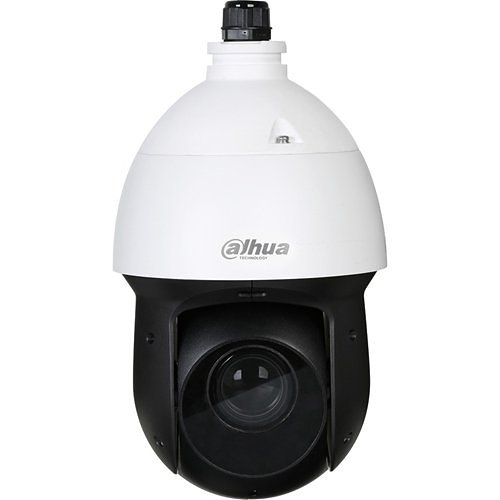 Productoverzicht
Algemeen Informatie
AI series products adopt the most advanced AI technologies, including deep learning algorithms that primarily target people and vehicles, which provides higher flexibility and accuracy for end-users. This enables the Dahua AI series to offer various advanced applications such as Face Recognition, ANPR, Metadata, People Counting, traffic data statistics, etc. The complete lineup of Dahua AI includes network (PTZ) cameras, network video recorders, servers, and more devices. Beyond seeing the world, the power of AI allows devices to perceive the environment and understand the world in a better way.

System Overview
Dahua PTZ AI network camera adopts advanced CNN deep learning algorithms to support Perimeter Protection with high accuracy. This camera possess wide monitor range, PFA algorithm that can always present a clear, focused image while zooming. The camera has very excellent low light performance due to adopting the latest starlight technology. The camera is equipped with smooth control, high quality image and good protection, which make it can meet most of the requirements of video surveillance applications.

Functions

Starlight Technology
For challenging low-light applications, Dahua's Starlight Ultra-low Light Technology offers best-in-class light sensitivity, capturing color details in low light down to 0.005 lux. The camera uses a set of optical features to balance light throughout the scene, resulting in clear images in dark environments.

Wide Dynamic Range
The camera achieves vivid images, even in the most intense contrast lighting conditions, using industry-leading wide dynamic range (WDR) technology. For applications with both bright and low lighting conditions that change quickly, True WDR (120 dB) optimizes both the bright and dark areas of a scene at the same time to provide usable video.

Perimeter Protection
Automatically filtering out false alarms caused by animals, rustling leaves, bright lights, etc. Enables system to act secondary recognition for the targets. Improving alarm accuracy.

Environmental
Dahua cameras operate in extreme temperature environments, rated for use in temperatures from -40 °C to +70 °C (-40 °F to +158 °F) with 95% humidity. Subjected to rigorous dust and water immersion tests and certified to the IP66 Ingress Protection rating makes it suitable for demanding outdoor applications.

Protection
The camera allows for 6KV lightning rating,which provides effective protection for both the camera and its structure against lightning.

Interoperability
The camera conforms to the ONVIF (Open Network Video Interface Forum) specifications, ensuring interoperability between network video products regardless of manufacturer.

PFA Technology
PFA technology has innovatively introduced new methods of judgment to ensure the accuracy and predictability of the direction of subject distance adjustment. The result is a set of advanced focusing algorithms. PFA ensures clarity of the image throughout the process of zooming and shortens focus time. The realization of PFA technology substantially improves user experience and increases product value.

SMD
With Deep-Learning Algorithm, Dahua SMD filters the motion detection alarm triggered by non-concerned target and recognize human and vehicle effectively, sending alarms when human and vehicle intrudes.
Categorie : PTZ Camera's, Video, Producten, IP Camera's
Specificaties
Algemene Informatie
Fabrikant
Zhejiang Dahua Technology Co., Ltd.
Productnaam
2MP 25x Starlight + IR PTZ AI Network Camera
Technische Informatie
Effectieve cameraresolutie
Maximum Focal Length (mm)
Minimale brandpuntafstand
Beeldscherm
Effective Camera Resolution (Pixel)
Camera
Connectiviteitstechnologie
Night Vision Distance (mm)
Interfaces/Poorten
Lens
Maximale brandpuntafstand
Netwerk & Communicatie
Omgeving
Maximale gebruikstemperatuur
Maximum Operating Temperature (°F)
Minimale gebruikstemperatuur
Minimum Operating Temperature (°F)
Opslag
Productinformatie
Montage
Junction Box Montage, Muurbevestiging, Parapet Mount, Plafondmontage, Plafondsteun, Wandmontage
Projectielens
Minimum Focal Length (mm)
Uiterlijke kenmerken
Overige