Takex PB-IN-100HFA AIR Beams 100m, 4-kanaals Quad, IP55
Merken:
Takex
Artikelnr #:PB-IN-100HF
Model #: PB-IN-100HFA
Naam: Takex PB-IN-100HFA PB-IN-HFA Series Quad Beam Photoelectric Sensor, 100m (330'), 4-Channel, 12-30V DC 105mA
Vivid internal body stickers aid beam alignment procedure
4 x Synchronised high power beams
4 x Selectable beam channels to prevent crosstalk
Sale Type: Promotie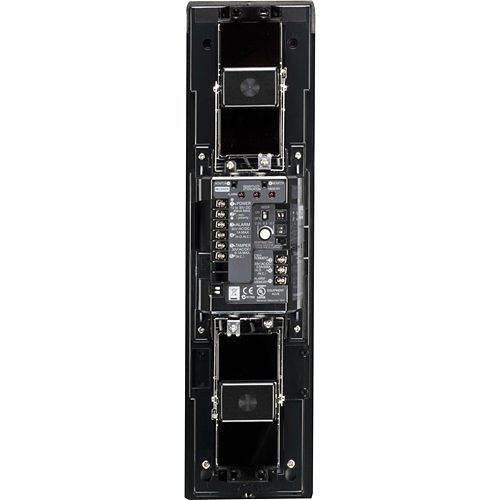 Productoverzicht
Algemeen Informatie
The PB-IN-HFA series is the flagship of the TAKEX range of infrared photoelectric beams. By synchronizing 16 beam paths between Transmitter and Receiver, the PB-IN-HFA series offer unrivalled stability in perimeter security. Coupled with channel separation and environmental (anti-fog) circuitry, the PB-IN-HFA series has earned worldwide recognition as the standard our rivals aspire to.
Main Features
Detectiebereik: 100m (buiten), 200m (binnen)
Intelligente Synchro Quad 4 Verschillende frequenties
Voeding: 12 tot 30Vdc, max.95mA
Probleemuitgang: relais reageert op het moment dat de weersomstandigheden dit noodzakelijk maakt
Alarmuitgang: relais form C, Trouble uitgang NO of NC
Afmetingen: 390x104x98mm
Categorie : Producten, Bewegings- en Perimeterdetectoren, Actief Infrarood Detectoren, Inbraak
Specificaties
Algemene Informatie
Productnaam
PB-IN-100HFA Photoelectric Beam Detector
Producttype
Foto-elektrische straaldetector
Technische Informatie
Maximaal detectiebereik binnen
Maximaal detectiebereik buiten
Maximum Indoor Detection Range (mm)
Maximum Outdoor Detection Range (mm)
Maximum Response Time (Second)
Bediening/Indicatoren
Statusindicatoren
Tone indicator
Alarm memory indication
Camera
Connectiviteitstechnologie
Energie
Productinformatie
Uiterlijke kenmerken
Overige
Certificaten & Standaarden
Kenmerken
Adjustable Angle, Auto-gain Lock, Beam Power Control Selector, Dubbele modulatie, Environmental Monitoring Circuit, Modulated Beam Frequency Selection