Honeywell Galaxy C017-L-E1 Flex+ 100 Paneel (17ah)
Merken:
Honeywell Commercial Security
Artikelnr #:C017-L-E1
Model #: C017-L-E1
Naam: Honeywell C017-L-E1 Galaxy Flex Series FX100+ 100-Zone Hybrid Grade 2 and Grade 3 Control Panel and Large Enclosure, 17ah
Class 2 or class 3 selectable. In accordance with EN50131-3: 2009, EN50131-6: 2008, PD6662: 2010, protection class 2 and 3, Environmental class II.
Up to 128 links can operate up to 55 outputs for automation of lighting, heating, access and other electrical systems.
Up to 250 system users, 16 groups, 128 links and 32 schemes.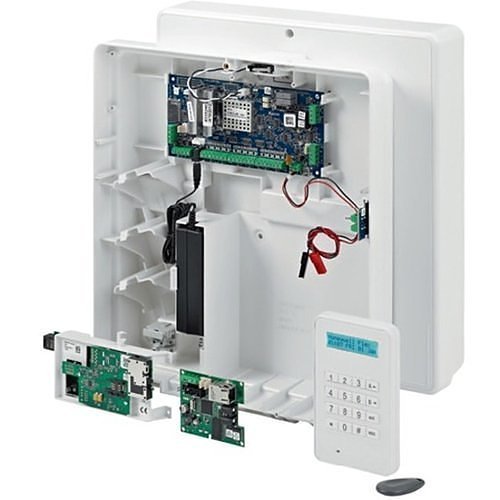 Productoverzicht
Algemeen Informatie
Thanks to the more than 30 years of experience of a trusted brand, Galaxy Flex + lifts reliability and strength to a higher level - resulting in a fully integrated hybrid burglar alarm and door security system for small to normal residential and commercial installations.
With Galaxy Flex + you can now switch from security class 2 to 3. Thus, for both security classes, the appropriate security level can be maintained as required for compliance with local legislation and implementation of automatic configurations. Additional benefits are a smaller inventory, less storage space and visible cost savings.
Galaxy Flex + offers access to up to 100 zones and has three powerful and function-rich control panels. This highly flexible series also has three different form factor options, including robust polycarbonate housings with unique expansion ports, RF and communication modules for easy and effective installation and maintenance.
Thanks to the software application Remote Servicing Suite, Flex + offers unique management of multiple sites through remote maintenance and programming options. Integration options allow you to combine security with building management systems and various third-party management tools.
Galaxy Flex + offers you one solution for both Class 2 and Class 3 security installations.
Access control, simple automatic programming and modular design ensure easy installation and flexibility from the framework to the plastic box.
Main Features
Galaxy Flex +, Instelbaar als Grade-2 of Grade-3 centrale (Conform EN regelgeving)
Los paneel zonder bediendeel
12 Zones onboard, uitbreidbaar tot 100 zones (indien gewenst alle zones draadloos)
16 separate blokken en 8 bedienpanelen en toegangscontrole tot 8 deuren
Geintegreerde PSTN kiezer, USB poort en 1A voeding (accu max 17Ah)
1 x RS-485 communicatielijn voor RIOs en keypads
Geschikt voor doormelding via Honeywell en 3rd Party kiezers (b.v. Chiron)
High Speed bus voor GSM/GPRS module, Ethernet module en PIRcam
Aantal gebruikers: 98 (codes of Tags/kaarten)
Geleverd in kunststof kast, afmetingen: 367x393x98mm
Categorie : Inbraak, Inbraakpanelen en Toebehoren, Inbraakcentrales en Kits, Producten
Specificaties
Algemene Informatie
Fabrikant
Honeywell International, Inc
Productnaam
Galaxy Flex+ Burglar Alarm Control Panel
Producttype
Controlepaneel, inbraakalarm
Technische Informatie
Logboek aantal gebeurtenissen
Netwerk & Communicatie
Uiterlijke kenmerken
Overige