Honeywell Galaxy C016-E1-K13 Flex+ 50 (17ah) +MK8 Keypad
Merken:
Honeywell Commercial Security
Artikelnr #:C016-E1-K13
Model #: C016-E1-K13
Naam: Honeywell Galaxy C016-E1-K13 Flex+ 50 Kit Grade 3 Incl Mk8 Kpd
Flexible expansion
Greater flexibility with more groups, users, links and schedules
Fast and Easy Grade 3 installations with integrated banking options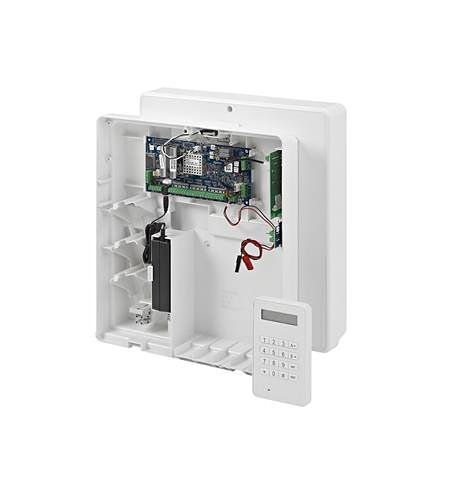 Productoverzicht
Algemeen Informatie
An enhanced, feature-rich Galaxy® Flex control panel range is now available from Honeywell. Compliant to EN50131, PD6662:2010 standards this hybrid intruder and door control security solution brings ease and flexibility to small to medium sized, Grade 2 security systems. Expansion costs are minimised thanks to 12 on-board zones which are fully customisable and further expandable due to the modular system design of Galaxy Flex. Flex 50 delivers high flexibility for small to mid-size systems where ease of install and functionality are important. With Galaxy Flex+ you can now switch between security Grade 2 and Grade 3 – providing the right level of security for local regulatory compliance and automatic configuration for both security grades. Additional benefits include a lower inventory, reduced storage requirements and visible cost savings. Galaxy Flex+ 50 houses Flex+50 Kits grade 3, the range here is C016-E1-K1x** and can be selected on basis of the application it's going to be used.
Main Features
Galaxy Flex +, Instelbaar als Grade-2 of Grade-3 centrale (Conform EN regelgeving)
Geleverd als kit, voorzien van MK8 keypad
12 Zones onboard, uitbreidbaar tot 50 zones (indien gewenst alle zones draadloos)
4 separate blokken en 4 bedienpanelen en toegangscontrole tot 8 deuren
Geintegreerde PSTN kiezer, USB poort en 1A voeding (accu max 17Ah)
1 x RS-485 communicatielijn voor RIOs en keypads
Geschikt voor doormelding via Honeywell en 3rd Party kiezers (b.v. Chiron)
High Speed bus voor GSM/GPRS module, Ethernet module en PIRcam
Aantal gebruikers: 50 (codes of Tags/kaarten)
Geleverd in kunststof kast, afmetingen: 367x393x98mm
Categorie : Toegangscontrole Modules, Inbraakpanelen en Toebehoren, Inbraakcentrales en Kits, Inbraak, Producten
Specificaties
Technische Informatie
Logboek aantal gebeurtenissen
Mazimaal aantal ondersteunde zones
Netwerk & Communicatie
Uiterlijke kenmerken
Toepassing/gebruik
Bedieningspaneel, Deur, Drukknop
Overige
Kenmerken
Communication flexibility, Easier Programming, Fast and easy installations, Greater flexibility