Honeywell Galaxy C015-E1-K13 Flex+ 20 (17ah) +MK8 Keypad
Merken:
Honeywell Commercial Security
Artikelnr #:C015-E1-K13
Model #: C015-E1-K13
Naam: Honeywell Galaxy C015-E1-K13 Flex+ 20 Kit Grade 3 Incl Mk8 Kpd
Total communication coverage for ARCs with integration of 3rd party communications modules
Visual alarm verification (Grade 2 only)
Encrypted multi-path IP communications (GSM/ GPRS) and heartbeat monitoring for reliable connection with the Alarm Receiving Centre (ARC)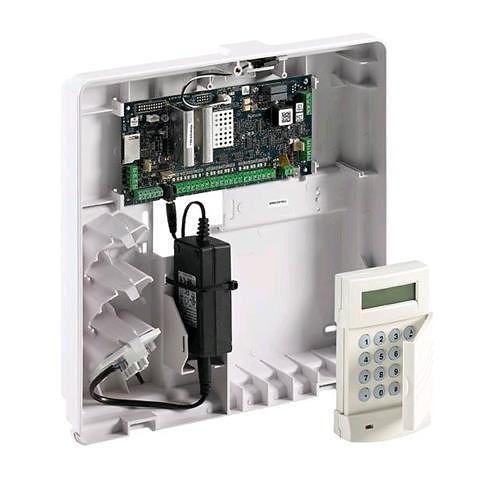 Productoverzicht
Algemeen Informatie
Galaxy Flex+ takes reliability and robustness to the next level – bringing you a fully integrated hybrid intruder alarm and door control security system for small to medium sized residential and commercial installations from 30 years. With Galaxy Flex+ you can now switch between security Grade 2 and Grade 3 – providing the right level of security for local regulatory compliance and automatic configuration for both security grades. Additional benefits include a lower inventory, reduced storage requirements and visible cost savings. Galaxy Flex+ provides access to up to 100 zones through three powerful and feature rich control panel options. The highly versatile series has three different form factor options including robust polycarbonate housings with unique slots for expansion, RF and communication modules for easy and efficient installation and maintenance.
Main Features
Galaxy Flex +, Instelbaar als Grade-2 of Grade-3 centrale (Conform EN regelgeving)
Geleverd als kit, voorzien van MK8 keypad
12 Zones onboard, uitbreidbaar tot 20 zones (indien gewenst alle zones draadloos)
3 separate blokken en 4 bedienpanelen en toegangscontrole tot 4 deuren
Geintegreerde PSTN kiezer, USB poort en 1A voeding (accu max 17Ah)
1 x RS-485 communicatielijn voor RIOs en keypads
Geschikt voor doormelding via Honeywell en 3rd Party kiezers (b.v. Chiron)
High Speed bus voor GSM/GPRS module, Ethernet module en PIRcam
Aantal gebruikers: 25 (codes of Tags/kaarten)
Geleverd in kunststof kast, afmetingen: 367x393x98mm
Categorie : Producten, Inbraakcentrales en Kits, Inbraak, Toegangscontrole Modules, Inbraakpanelen en Toebehoren
Specificaties
Algemene Informatie
Fabrikant
Honeywell International, Inc
Productnaam
Controlepaneel met MK8-toetsenbord
Producttype
Controlepaneel, inbraakalarm
Technische Informatie
Logboek aantal gebeurtenissen
Mazimaal aantal ondersteunde zones
Interfaces/Poorten
Netwerk & Communicatie
Uiterlijke kenmerken
Overige
Kenmerken
Built in analog telephone dialer, Home Automation functions, Remote access, USB Port for Programming