Hikvision DS-2CD6D54FWD Panoramic Series, IP67 5MP 2.8-12mm gemotoriseerde varifocale lens, IR 30M 4-DirectionalIP Multisensor camera, wit
Merken:
Hikvision
Artikelnr #:311900087
Model #: DS-2CD6D54FWD-IZHS(2.8-12MM)
Naam: Hikvision DS-2CD6D54FWD-(I)Z(H)(S)(/NFC) 4-Directional Multisensor Network Camera, (4) 2.8-12mm Varifocal Lenses, 2560 x 1920 Resolution
4 adjustable lenses in one camera cover up to a 360° field of view, ensuring zero-blind zone monitoring
the monitoring tilt angle can also be adjusted
Each lens has a resolution of up to 5 MP, capturing clear images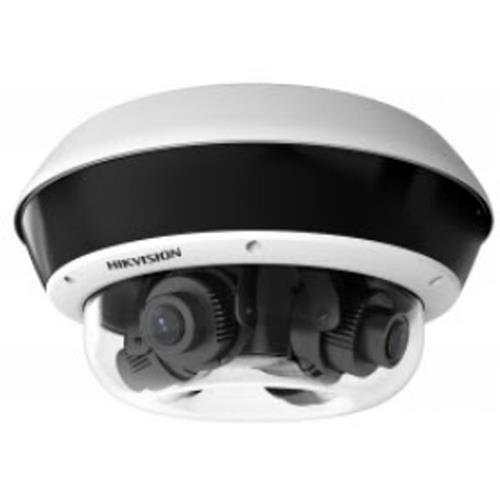 Productoverzicht
Algemeen Informatie
Hikvision's DS-2CD6D54FWD-(I)Z(H)(S) 20 MP H.265+EXIR PanoVu Flexible Outdoor Network Camera features 1/2.7" progressive scan CMOS sensorsand four lenses. Each lens supports 5 MP at 24 fps. Compression up to H.265+ saves bandwidth andstorage space. EXIR technology (-I) extends the IR range to 98 feet (30 meters).
Main Features
4 adjustable lenses in one camera cover up to a 360° field of view, ensuring zero-blind zone monitoring
the monitoring tilt angle can also be adjusted
Each lens has a resolution of up to 5 MP, capturing clear images
more details can be displayed on a video wall
A built-in heater provides ultra-low temperature start-up to -40℃
IP67/IK10 water resistant and vandal proof, preventing water ingress for outdoor use
FC interface: the camera can be connected by fiber optical cable for the transfer of data over long distances
H.265+/H.265/H.264+/H.264 encoding: efficient compression technology saves storage space and reduces bandwidth requirements
Categorie : Video, Producten, IP Camera's, Panoramische Camera's
Specificaties
Algemene Informatie
Artikelcode fabrikant
DS-2CD6D54FWD-IZHS(2.8-12MM)
Productnaam
PanoVu 20MP Flexible Series Camera
Technische Informatie
Effectieve cameraresolutie
Gezichtsveld
Horizontal field of view: 30° to 101° Vertical field of view: 22.4° to 73° Diagonal field of view: 37° to 137
Maximum Focal Length (mm)
Minimale brandpuntafstand
Videoformaten
H.264 (MP), H.264 BP, H.264 HP, H.264+, H.265 (MP), MJPEG, Motion JPEG, PAL, Smart H.265+
Beeldscherm
Effective Camera Resolution (Pixel)
Belichting
Camera
Connectiviteitstechnologie
Night Vision Distance (mm)
Energie
Garantie
Interfaces/Poorten
Lens
Maximale brandpuntafstand
Netwerk & Communicatie
Omgeving
Maximale gebruikstemperatuur
Maximum Operating Temperature (°F)
Minimale gebruikstemperatuur
Minimum Operating Temperature (°F)
Opslag
Productinformatie
Projectielens
Minimum Focal Length (mm)
Uiterlijke kenmerken