Hikvision DS-2CD2147G2-L Pro Series, ColorVu IP67 4MP 2.8mm vaste lens IP dome camera, wit
Merken:
Hikvision
Artikelnr #:311318230
Model #: DS-2CD2147G2-L(2.8MM)(C)
Naam: Hikvision DS-2CD2147G2L 4 MP ColorVu Fixed Dome Network Camera, 2.8mm
High quality imaging with 4 MP resolution
Efficient H.265+ compression technology
Clear imaging against strong back light due to 130 dB WDR technology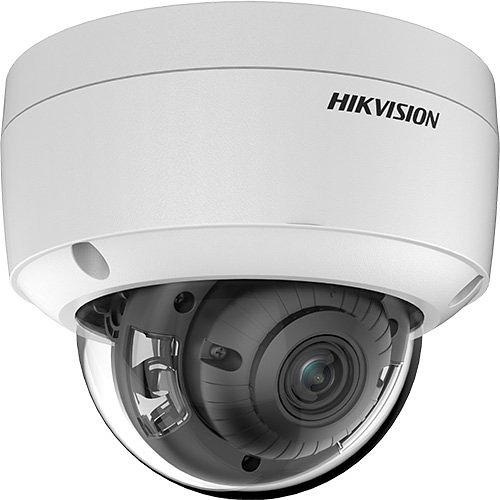 Productoverzicht
Algemeen Informatie
Hikvision ColorVu technology provides 24/7 vivid colorful images with F1.0 advanced lenses and high performance sensors. F1.0 super-aperture collects more light to produce brighter images. Advanced sensor technology can vastly improve the utilization of available light.
Main Features
High quality imaging with 4 MP resolution
Clear imaging against strong backlight due to 120 dB WDR technology
Efficient H.265+ compression technology
Focus on human and vehicle targets classification based on deep learning
-S: audio and alarm interface available
-W: Realizing Wi-Fi connection and easy installation
Water and dust resistant (IP67) and vandal resistant (IK08)
Categorie : Video, Dome Camera's, Producten, IP Camera's
Specificaties
Algemene Informatie
Productnaam
DS-2CD2147G2-SU ColorVu Netwerkcamera
Technische Informatie
Effectieve cameraresolutie
Gezichtsveld
horizontal FOV 112°, vertical FOV 61°, diagonal FOV 134°
Maximum Focal Length (mm)
Beeldscherm
Effective Camera Resolution (Pixel)
Belichting
Camera
Connectiviteitstechnologie
Night Vision Distance (mm)
Energie
Interfaces/Poorten
Lens
Maximale brandpuntafstand
Netwerk & Communicatie
Omgeving
Maximale gebruikstemperatuur
Maximum Operating Temperature (°F)
Minimale gebruikstemperatuur
Minimum Operating Temperature (°F)
Opslag
Productinformatie
Uiterlijke kenmerken
Duurzaamheid
Schokbestendig, Stofbestendig, Waterbestendig
Video
Overige
Kenmerken
3D Digital Noise Reduction, Back Light Compensation (BLC), Cross Line Detection, Highlight Compensation (HLC), HTTPS Encryption, Password Protection, Privacy Masking, Region of Interest, Sabotagealarm, SD Card Local Storage, Tampering Alarm, Wachtwoordbescherming, White Balance, Witbalans