AXIS M3086-V M30 serie, 4MP Zipstream vandaalbestendige IP mini dome camera, 2.4mm vaste lens, IP42
Merken:
AXIS Communications
Artikelnr #:02374-001
Model #: 02374-001
Naam: AXIS M3086-V M30 Series, 4MP Zipstream Vandal Resistant IP Mini Dome Camera, 2.4mm Fixed Lens, IP42
Network camera - Helps achieve high-quality video results
Compact, discreet design
Features RGB CMOS sensor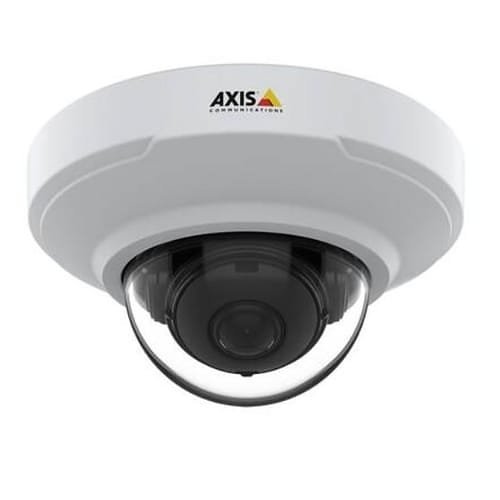 Productoverzicht
Algemeen Informatie
AXIS M3086-V offers support for intelligent analytics based on deep learning on the edge. This cost-efficient mini dome offers a wide range of mounting accessories for flexible and discreet installation. AXIS M3086-V offers great 4 MP image quality even in challenging light conditions.
Main Features
Network camera - Helps achieve high-quality video results
Compact, discreet design
Features RGB CMOS sensor
Up to 2688 x 1512 resolution for surveillance in real-time
Built-in cybersecurity features
Categorie : IP Camera's, Dome Camera's, Video, Producten
Specificaties
Technische Informatie
Effectieve cameraresolutie
Gezichtsveld
Horizontal field of view: 130° Vertical field of view: 93°
Maximum Focal Length (mm)
Beeldscherm
Effective Camera Resolution (Pixel)
Belichting
Camera
Connectiviteitstechnologie
Interfaces/Poorten
Lens
Maximale brandpuntafstand
Netwerk & Communicatie
Omgeving
Maximale gebruikstemperatuur
Maximum Operating Temperature (°F)
Minimale gebruikstemperatuur
Minimum Operating Temperature (°F)
Opslag
Productinformatie
Montage
Plafondmontage, Wandmontage
Uiterlijke kenmerken
Duurzaamheid
Impactbestendig, Schokbestendig, Stofbestendig, Waterbestendig
Video
Overige
Kenmerken
Built-in Microphone, Cross Line Detection, HTTPS Encryption, Human Detection, Multi-view Stream, Password Protection, Removable IR Cut-off Filter, Sabotagealarm, Vehicle Detection, Witbalans