AXIS P3905-R Mk II P39 serie, Onboard HDTV 1080p WDR IP camera, 3.6mm lens, wit
Merken:
AXIS Communications
Artikelnr #:01072-001
Model #: 01072-001
Naam: AXIS P3905-R Mk II P39 Series, Zipstream Onboard Surveillance IP Camera, 3.6mm Lens, IP67, White
Compact, rugged design
Complies with EN50155
WDR and Lightfinder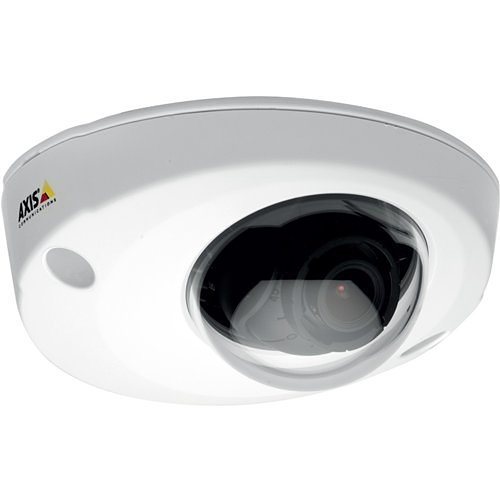 Productoverzicht
Algemeen Informatie
AXIS P3905-R Mk II Network Camera is a high-performance network camera specifically designed for mobile video surveillance on board vehicles and rolling stock like buses, trains, subway cars, and emergency vehicles. The camera features protection against dust and water, and it can withstand tough conditions such as vibrations, shocks, bumps, and temperature fluctuations. But best of all, thanks to Axis technology for challenging lighting and Axis Zipstream technology, AXIS P3905-R Mk II captures full forensic detail while minimizing bandwidth and storage requirements.
Excellent onboard image quality
AXIS P3905-R Mk II is specially adapted to deliver sharp HDTV 1080p image quality onboard moving vehicles with varied and fast-shifting light levels. The camera features WDR - Forensic Capture for clarity when there are both dark and light areas in the scene, and Axis Lightfinder technology for color images even in near darkness. Traffic Light mode helps to better delineate the color of traffic lights in very dark scenes.
Main Features
Geschikt voor: Outdoor
Resolutie: 2MP
Lens: 3.6mm
Voeding: PoE via F34,F41,F44
Lichtgevoeligheid: 0.06 lux
Zipstream; WDR: Forensic Capture
IP waarde: IP66,67; Vandaal: IK09
Lokale opslag (geheugenkaartslot): F34,F41,F44
Horizontaal gezichtsveld: 87°
Max frames per second 30
Categorie : IP Camera's, Producten, Dome Camera's, Video
Specificaties
Algemene Informatie
Productnaam
P3905-R MK II Netwerkcamera
Technische Informatie
Gezichtsveld
Horizontal field of view: 87° - Vertical field of view: 47°
Maximum Focal Length (mm)
Beeldscherm
Minimum Illumination (lux)
Belichting
Camera
Connectiviteitstechnologie
Garantie
Interfaces/Poorten
Lens
Maximale brandpuntafstand
Netwerk & Communicatie
Omgeving
Maximale gebruikstemperatuur
Maximum Operating Temperature (°F)
Minimale gebruikstemperatuur
Minimum Operating Temperature (°F)
Opslag
Productinformatie
Montage
Bracket Mount, Wandmontage
Uiterlijke kenmerken
Duurzaamheid
Schokbestendig, Stofbestendig, Vibration Resistant, Waterbestendig
Video
Overige
Inhoud verpakking
P3905-R MK II Network Camera
Installation Guide
Windows Decoder 1-user License
Drill Hole Template
Top Cover Tool
Lens Tool
Allen Key Resistorx
Kenmerken
Active Tampering Alarm, HTTPS Encryption, Password Protection, Rugged Design, SD Card Local Storage, Shock Detection, Vibration Detection, Wachtwoordbescherming, White Balance, Witbalans