Notifier 002-477-122 NFS2 Conventioneel brandmeldpaneel, 2 zones
Merken:
Notifier
Artikelnr #:002-477-122
Model #: 002-477-122
Naam: Notifier 002-477-122 NFS2 Conventional Fire Alarm Panel, 2 Zone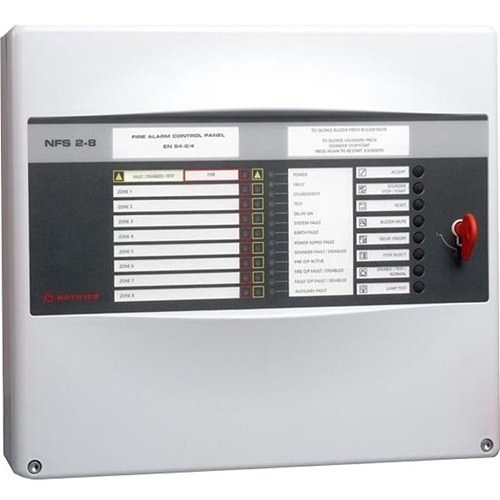 Productoverzicht
Algemeen Informatie
The Notifier NFS 2-8; 2, 4 & 8 Zone Conventional Fire Indicator Panels have been developed with efficiency in mind, offering a technically advanced range of facilities and functions while remaining easy to install, program and operate.

A full range of conventional detectors, beam detectors, manual call points, duct-mounting applications, audible and visual devices complement the NFS 2-8 series.

The NFS 2-8; 2, 4 or 8 zone conventional fire alarm panels are ideally suited for facilities such as offices, shops, hotels, B & B's, clubs, small industrial units, nursing homes, schools, etc.. offering a wide range of benefits to installer and end-users.

The NFS 2-8 fire alarm panels are designed to simplify installation.

The enclosure consists of a two part arrangement of front cover and back box.

The back box contains a top and centred key hole fixing with two additional fixing points that are angled to provide final alignment.

Eighteen knockouts in the top of the back box provide ample cable entry points and are suitable for both standard and enhanced cables.

All cable connections are conveniently located along the top edge of the control and P.S.U. modules.
Main Features
NFS 2 2-groepen brandmeldcentrale
2 programmeerbare ingangen
2 programmeerbare bewaakte uitgangen IP30 behuizing
Afmeting: 356 x 318 x 96mm (bxhxd)
Maximale ruimte voor 2 accu van 7Ah
Categorie : Producten, Bedieningspanelen, Brandmeldcentrales, Brand
Specificaties
Algemene Informatie
Fabrikant
Honeywell International, Inc
Productnaam
NFS 2-8 Bedieningspaneel brandmelder
Producttype
Bedieningspaneel brandmelder
Technische Informatie
Mazimaal aantal ondersteunde zones
Energie
Overige
Certificaten & Standaarden