Dahua SD22404T-GN Lite serie, IP66 2MP 2.7-11mm lens, 4x optische zoom IP PTZ camera, wit
Merken:
Dahua Technology
Artikelnr #:SD22404T-GN-S2
Model #: DH-SD22404T-GN-S2
Naam: Dahua SD22404T-GN Lite Series, IP66 2MP 2.7-11mm Lens, 4x Optical Zoom IP PTZ Camera, White
Powerful 4x optical zoom
CMOS sensor is cheaper as compare to CCD and consumes less power while producing better HD videos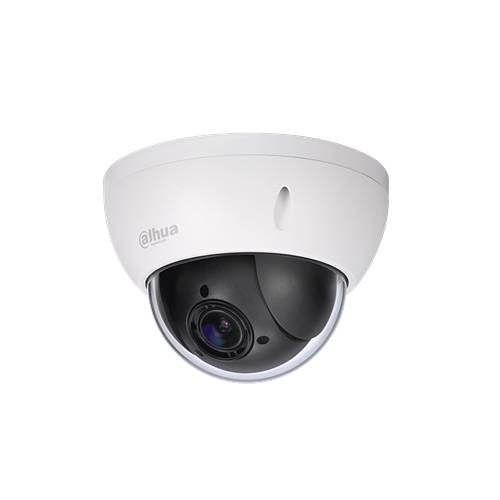 Productoverzicht
Algemeen Informatie
Featuring powerful optical zoom and accurate pan/tilt/zoom performance, the camera provides a wide monitoring range and great detail. The camera delivers 4MP resolution at 25/30fps. The camera is equipped with smooth control, high quality image, and good protection, meeting compact size demands of video surveillance applications.
Functions
Wide Dynamic Range
The camera achieves vivid images, even in the most intense contrast lighting conditions, using industry-leading wide dynamic range (WDR) technology. For applications with both bright and low lighting conditions that change quickly, True WDR (120 dB) optimizes both the bright and dark areas of a scene at the same time to provide usable video.
High Efficiency Video Coding (H.265)
The H.265 (ITU-T VCEG) video compression standard offers double the data compression ratio at the same level of video quality, or substantially improved video quality at the same bit rate, as compared to older video compression technologies. H.265 offers such impressive compression by expanding the pattern comparison and difference-coding, improving motion vector prediction and motion region merging, and incorporating an additional filtering step called sample-adaptive offset filtering.
Environmental
Dahua cameras operate in extreme temperature environments, rated for use in temperatures from -30 °C to +60 °C (-22 °F to +140 °F)with 95% humidity. The camera complies with the IK10 Vandal Resistance impact rating. Subjected to rigorous dust and water immersion tests and certified to the IP66 Ingress Protection rating makes it suitable for demanding outdoor applications.
Interoperability
The camera conforms to the ONVIF (Open Network Video Interface Forum) specifications, ensuring interoperability between network video products regardless of manufacturer.
Main Features
Powerful 4x optical zoom
CMOS sensor is cheaper as compare to CCD and consumes less power while producing better HD videos
Categorie : PTZ Camera's, Video, Producten, IP Camera's
Specificaties
Algemene Informatie
Fabrikant
Zhejiang Dahua Technology Co., Ltd.
Productnaam
4MP 4x PTZ Network Camera
Technical Information
Minimale brandpuntafstand
Technische Informatie
Effectieve cameraresolutie
Camera
Connectiviteitstechnologie
Display & Graphics
Interfaces/Poorten
Lens
Maximale brandpuntafstand
Netwerk & Communicatie
Physical Characteristics
Product Information
Productinformatie
Montage
Plafondmontage, Plafondsteun, Verticale bevestiging, Wandsteun
Projectielens
Minimum Focal Length (mm)
Storage
Uiterlijke kenmerken