Honeywell Galaxy C048-D-E2 Dimension Gd-48 Paneel
Merken:
Honeywell Commercial Security
Artikelnr #:C048-D-E2
Model #: C048-D-E2
Naam: Honeywell C048-D-E2 Galaxy Dimension Series 48-Zones Control Panel
Door access controlled by access templates and group set status
Areas behind a door can be unset automatically via card reader
Access event log with 1000 events recorded in panel (separate intruder log)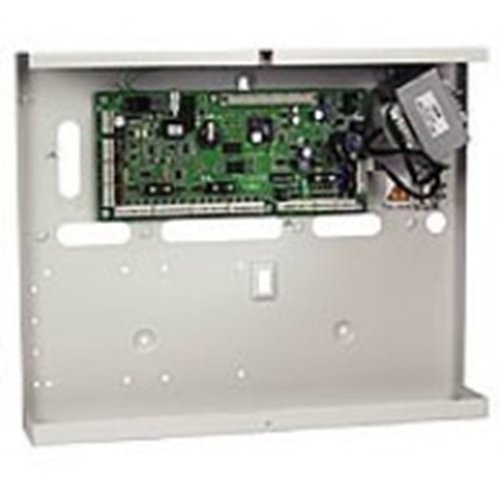 Productoverzicht
Algemeen Informatie
Integrated intrusion and door control panel range
The Galaxy® Dimension series of security systems is a fully integrated intrusion and door control security solution for mid to large commercial security installations. It offers your customers a user-friendly system in a cost-effective and fully compliant package. An innovative wireless capability offers high quality, reliable security solutions, with the flexibility to meet the needs of every commercial and industrial application.
Go wireless
Cabling can be impractical due to building aesthetics, or simply too expensive. By removing cabling, significant savings can be made on the total installation cost, particularly on larger installations. For users a wireless solution is less invasive and minimises disruption to their business. Galaxy Dimension's wireless options can be used with, or as an alternative to a wired solution, providing installers with additional business opportunities and significant cost and time savings.

A secure and reliable solution
Wireless is enabled using patented control panel software and up to eight RF portals in an installation. Our unique bi-directional radio and agile routing technologies, combined with Galaxy® reliability ensures that the wireless sensors and the control panel can talk to each other using the strongest available signal path. This, plus the sensors' 2km radio range in open field, makes our wireless solution a far more reliable and secure system, even for commercial environments.

A full range of wireless sensors offering new capabilities
Our comrehensive range of wireless peripherals is compatible with our core Dimension, Flex, G2 and Domonial intruder alarm panels. The wireless sensors address all of the needs of an intrusion system plus more with environmental, life safety and perimeter options. Key to this offer is our wireless DUAL TEC® sensor, which extends the benefits that dual technology provides in false alarm reduction to cover commercial environments. Two-way wireless key fobs allows users to instantly set or unset the system from in or outside the premises and view system status. This helps reduce user error and related false alarms. For installers, this full portfolio opens up new market opportunities and additional revenues. For users, it means greater reliability and the flexibility to customise the system to meet business needs. Furthermore, it saves the time and cost of installing cables, and minimises false alarms - leading to lower intervention costs.
Integrated solutions
Galaxy Dimension offers enhanced door control features within a single, integrated system. For the end user, it's easy to operate. For the installer, it's easy to programme, commission and maintain. Plus, a single system means one point of contact for customer and technical support. Galaxy® Dimension integrates with WINPAK® access control platform from Honeywell so that businesses can expand as they grow to full access control functionality managed via one single WINPAK user interface.
Flexible & reliable communications
To ensure fail-safe communications, multiple path communication options for alarm signalling include GPRS, Ethernet and standard telephone line (PSTN). These options also allow maximum flexibility and customisation to capitalise on existing network infrastructures and minimise disruption for customers.
Main Features
Grade-3 Hybride inbraakcentrale met 16 zones on-board
Uitbreidbaar tot 48 zones (bedraad en/of draadloos)
8 separate blokken, geintegreerde PSTN kiezer, RS-232 poort en 2,5A voeding
Ondersteunt volledig geintegreerde toegangscontrole tot 8 deuren
Geschikt voor één TouchCenter bediendeel, 100 gebruikerscodes/kaarten
1 x RS-485 communicatielijn
Geleverd in metalen kast, afmetingen: 352 x 440 x 88 mm
Categorie : Inbraakpanelen en Toebehoren, Inbraak, Producten, Inbraakcentrales en Kits
Specificaties
Algemene Informatie
Fabrikant
Honeywell International, Inc
Productnaam
Galaxy Dimension GD-48 Controlepaneel, inbraakalarm
Producttype
Controlepaneel, inbraakalarm
Technische Informatie
Logboek aantal gebeurtenissen
Mazimaal aantal ondersteunde zones
Netwerk & Communicatie
Overige
Certificaten & Standaarden
EN50131-3: 2009
EN50131-6: 2008 Degree of Safety 3 Environmental Class II