Honeywell Galaxy C006-M-E1 Flex3-50 Paneel (10ah)
Merken:
Honeywell Commercial Security
Artikelnr #:C006-M-E1
Model #: C006-M-E1
Naam: Honeywell C006-M-E1 Galaxy Flex Series FX050 52-Zone Hybrid Control Panel with Medium Enclosure
GSM/GPRS, Ethernet, PSTN programmable via quick set up wizards
Night set mode allows easy configuration for residential applications
Includes alarm verification with video, delivering improved communications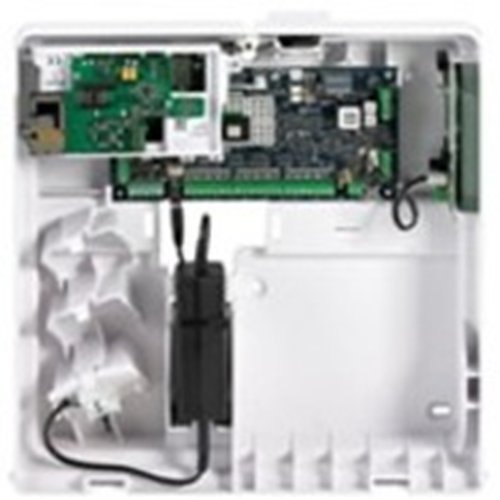 Productoverzicht
Algemeen Informatie
Flexible control panel range for small to medium sized security installations
An enhanced, feature-rich Galaxy® Flex control panel range is now available from Honeywell. Compliant to EN50131, PD6662:2010 standards this hybrid intruder and door control security solution brings ease and flexibility to small to medium sized, Grade 2 security systems. Expansion costs are minimised thanks to 12 on-board zones which are fully customisable and further expandable due to the modular system design of Galaxy Flex.
Galaxy Flex 20 is feature packed for small systems up to 20 zones, Flex 50 delivers high flexibility for small to mid size systems where ease of install and functionality are important and Flex 100 offers a highly competitive system for a greater number of zones and functionality.
Main Features
12 Zones onboard, uitbreidbaar tot 52 zones (bedraad en/of draadloos)
4 separate blokken en 4 bedienpanelen en toegangscontrole tot 8 deuren
Geintegreerde PSTN kiezer, USB poort en 1A voeding (accu max 7Ah)
Categorie : Producten, Inbraakcentrales en Kits, Inbraak, Inbraakpanelen en Toebehoren
Specificaties
Algemene Informatie
Fabrikant
Honeywell International, Inc
Productnaam
VCG20708BLMPB Controlepaneel, inbraakalarm
Producttype
Controlepaneel, inbraakalarm
Technische Informatie
Logboek aantal gebeurtenissen
Maximaal aantal ondersteunde draadloze zones
Mazimaal aantal ondersteunde zones
Energie
Interfaces/Poorten
Netwerk & Communicatie
Overige
Certificaten & Standaarden
EN50131-1: 2006 +A1:2009 and tested to EN50131-3: 2009
Security Grade 2
Environmental Klasse II PD6662/2010:BS8243:2010