TRENDnet TPE-TG50G 5-poorts Gigabit PoE Switch, 10Gbps
Merken:
TRENDnet
Artikelnr #:TPE-TG50G
Model #: TPE-TG50G (UK)
Naam: TRENDnet TPE-TG50G 5-Port Gigabit PoE Switch, 10Gbps
DESKTOP DESIGN: With a compact and lightweight metal housing design, this Ethernet switch is well-suited for desktop installations.
DATA TRANSFER RATE: Ethernet: 10Mbps (half duplex), 20Mbps (full duplex) Fast Ethernet: 100Mbps (half duplex), 200Mbps (full duplex) Gigabit: 2000Mbps (full duplex)
TRENDnet LIFETIME PROTECTION: Lifetime TRENDnet Manufacturer Warranty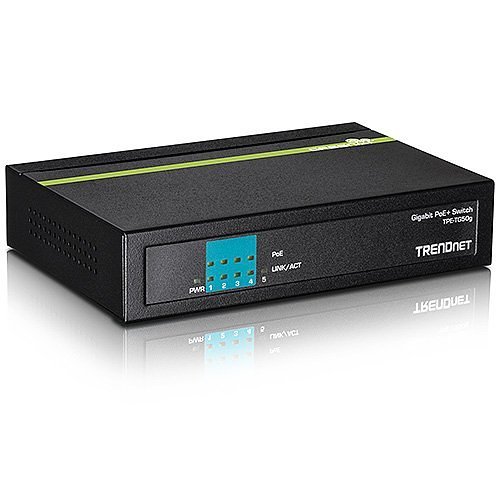 Productoverzicht
Algemeen Informatie
TRENDnet's 5-Port Gigabit PoE+ Switch, model TPE-TG50g, delivers data and power over existing Ethernet cables to Power over Ethernet (PoE) devices such as access points and IP cameras. it supports both PoE and PoE+ devices with a 31W PoE power budget. Easily install this compact sturdy metal switch for reliable high-speed PoE networking.
Main Features
DESKTOP DESIGN: With a compact and lightweight metal housing design, this Ethernet switch is well-suited for desktop installations.
DATA TRANSFER RATE: Ethernet: 10Mbps (half duplex), 20Mbps (full duplex) Fast Ethernet: 100Mbps (half duplex), 200Mbps (full duplex) Gigabit: 2000Mbps (full duplex)
TRENDnet LIFETIME PROTECTION: Lifetime TRENDnet Manufacturer Warranty
Categorie : Producten, Data Comm & Netwerken, Hubs, Routers & Switches, Netwerk Switches
Specificaties
Technische Informatie
Energie
Garantie
Interfaces/Poorten
Gegevens poort/uitbreidingssleuf
5 x Gigabit Ethernet Network
Totaal aantal netwerkpoorten
Interfaces/Ports
Management & Protocollen
Media & Performance
Netwerk & Communicatie
Network & Communication
Physical Characteristics
Power Description
Uiterlijke kenmerken
Overige
Inhoud verpakking
5-Port Gigabit PoE+ Switch
Snelstartgids
Stroomadapter