TRENDnet TEG-S82G 8-poorts Gigabit Greennet Switch met metalen behuizing
Merken:
TRENDnet
Artikelnr #:TEG-S82G
Model #: TEG-S82G
Naam: TRENDnet TEG-S82G 8-Port Gigabit GREENnet Switch with Metal Case
DESKTOP DESIGN: With a compact and lightweight metal housing design, this Ethernet switch is well-suited for desktop installations. Its fanless design is perfect for quiet environments that require silent operation.
PLUG-AND-PLAY: Easy setup, simply power up the switch and plug in connected devices
LOW-NOISE OPERATION: Fanless design lowers energy consumption and eliminates operating noise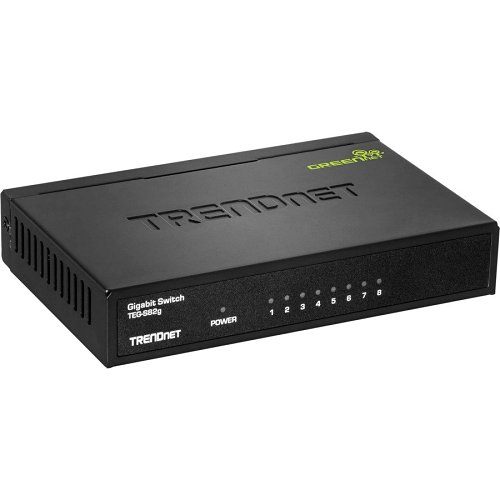 Productoverzicht
Algemeen Informatie
The 8-Port Gigabit GREENnet Switch, model TEG-S82g, provides high bandwidth performance, ease of use, and reliability, all while reducing power consumption by up to 70%*. GREENnet technology automatically adjusts power consumption as needed, resulting in substantial energy savings. Embedded GREENnet technology works right out of the box with no management requirement.
Boost office network efficiency and eliminate network congestion with gigabit speeds and a total switching capacity of 16Gbps with full-duplex mode. Integrate this sturdy metal switch for reliable high speed network connectivity.
Main Features
GREENnet
Netwerk switch met 8 x Gigabit poorten
Tot 40% energiebesparing met GREENnet technologie
Plug en Play
Categorie : Data Comm & Netwerken, Netwerk Switches, Hubs, Routers & Switches, Producten
Specificaties
Technische Informatie
Energie
Redundante stroomvoorziening ondersteund
Garantie
Interfaces/Poorten
Gegevens poort/uitbreidingssleuf
8 x Gigabit Ethernet Network
Totaal aantal netwerkpoorten
Management & Protocollen
Media & Performance
Netwerk & Communicatie
Productinformatie
Uiterlijke kenmerken
Overige
Inhoud verpakking
8-Port Gigabit GREENnet Switch
Installatiehandleiding
Stroomadapter(5VDC/1A)