Hikvision DS-3E0105P-E-M Value serie, 4-poorts Fast Ethernet unmanaged PoE switch
Merken:
Hikvision
Artikelnr #:301801291
Model #: DS-3E0105P-E/M(B)
Naam: Hikvision DS-3E0105P-E/M(B) Switch Unmanaged 5 Puertos 100m
Up to 250 m transmission distance.
Supports cost-efficient twisted pair cables for high-speed data transfer up to 100 meters
Fast Ethernet technology gives ideal solution for extending network connections to conference rooms, labs, lobbies and department workgroups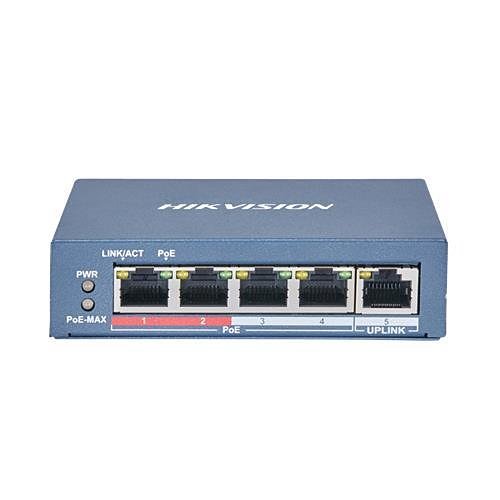 Productoverzicht
Algemeen Informatie
DS-3E0105P-E/M(B) is a layer 2 100M PoE switch. Based on wire-speed forwarding, the switch supports PoE power supply and extend mode. The power supply distance reaches as long as 250 m. It also supports prior and stable transmission of the important surveillance area video when connected to the high priority ports.
Main Features
Up to 250 m transmission distance.
Supports cost-efficient twisted pair cables for high-speed data transfer up to 100 meters
Fast Ethernet technology gives ideal solution for extending network connections to conference rooms, labs, lobbies and department workgroups
Categorie : Hubs, Routers & Switches, Data Comm & Netwerken, Producten, Netwerk Switches
Specificaties
Algemene Informatie
Productnaam
DS-3E0105P-E/M(B) 100M PoE Switch
Technische Informatie
Energie
Interfaces/Poorten
Gegevens poort/uitbreidingssleuf
1 x Fast Ethernet Network, 4 x Fast Ethernet PoE
Totaal aantal netwerkpoorten
Management & Protocollen
Media & Performance
Netwerk & Communicatie
Productinformatie
Uiterlijke kenmerken
Overige