TEF GEKKO-2L Brandmeldcentrale GEKKO-2L
Merken:
TEF
Artikelnr #:GEKKO-2L
Model #: GEKKO-2L
Naam: TEF GEKKO-2L Power Supply Unit 2-Loop 2.4A
Networkable panel, compatible with OCTO+ and NODE+ range of panels
Supports connection to Repeaters via RS422, Fibre-Optic or TCP/IP
250 devices per loop (125 address limit)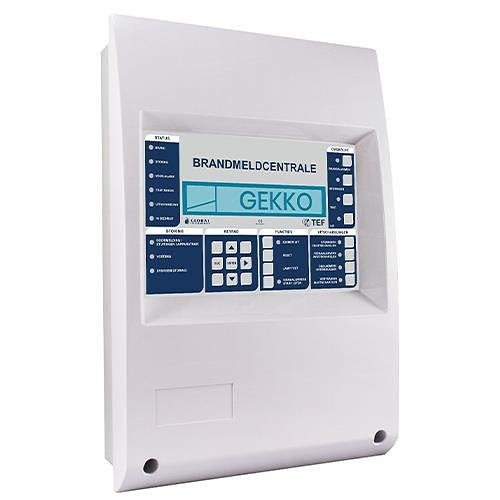 Productoverzicht
Algemeen Informatie
The GEKKO Fire Alarm Control Panel is the successor of the enormously popular GFE JUNIOR panel. The GEKKO can have from 1 to 4 addressable loops. It is housed in a functional ABS plastic enclosure, with only two screws used to close and secure the lid. It can naturally also communicate with our proprietary ODYSSEY Graphics Interface, as well as with third party Building Management Systems through a Modbus output. It is also capable to communicate with a Repeater unit, using any of the networking interfaces of the CHAMELEON protocol.
Main Features
Brandmeldcentrale GEKKO adresseerbaar
2 lussen, max. 4 lussen
32 Netw
24/2,4A voeding
Max 2 x 9Ah Accu
Categorie : Bedieningspanelen, Producten, Brand, Brandmeldcentrales
Specificaties
Algemene Informatie
Productnaam
GEKKO GEKKO-2L Bedieningspaneel brandmelder
Producttype
Bedieningspaneel brandmelder
Technische Informatie
Aantal ondersteunde relais
Logboek aantal gebeurtenissen
Batterij
Beeldscherm
Energie
Ingangsspanning
220 V AC, 28.5 V DC, 90 V AC
Uiterlijke kenmerken
Overige
Certificaten & Standaarden