AG Neovo SC-2702 27" 1080p Full HD-monitor voor videobewaking met BNC
Merken:
AG Neovo
Artikelnr #:SC-2702
Model #: SC-2702
Naam: AG Neovo SC-2702 27" LED Full HD 24/7 Video Surveillance Monitor with BNC
Full HD 1920 x 1080 resolution
Versatile connectivity: VGA, HDMI, Composite (BNC) inputs
Composite (BNC) passive loop-through output port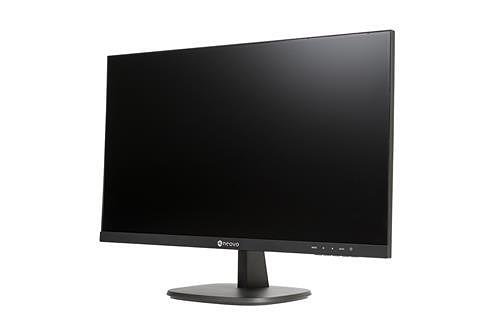 Productoverzicht
Algemeen Informatie
The SC-2702 27-inch surveillance monitor with BNC connector features 3-sided bezel-less specifically designed for security operators - especially those with a 24/7 operating multi-screen setup who are looking for efficient video monitoring. The SC-2702 provides value-added video enhancement controls that help create detailed images for low-light footage. Its optional monitor mounting solutions support single or multiple monitor setups. In terms of cost-to-performance, this model is the solution for productivity in modern operator workstations.
3-SIDED BEZEL LESS MONITOR INCREASE PRODUCTIVITY
The SC-2702 adopts a seamless 3-sided bezel-less design to create a productive work environment and reduce gaps between monitors. Perform rapid analysis, manage, and control video sources from all locations. Evolving situations require quick decisions, which seamless monitors can help with.
MULTIPLE MONITOR SETUPS MADE EASY
With VESA 100 x 100mm, the SC-2702 is compatible with AG Neovo's mounting portfolio of desk and wall mounts. Whether you're looking for a dual, quad, or more monitor set-up, AG Neovo is a one-stop-shop for creating ergonomic workstations in a control room.
HIGHER COST PERFORMANCE
Designed with long-hour monitoring in mind, you can expect a reduction in system maintenance efforts and consequentially higher cost performance. The SC-2702 is commercial grade and meant to work 24/7, 365 days a year. Static images that would otherwise cause screen burn-in are gone with AG Neovo's patented Anti-Burn-in technology. Expect prolonged life for LCD screens.
PERFECT MATCH TO CCTV IMAGES
There is a special pre-configured CCTV Mode that maximises image clarity in low-light footage. Quickly fine-tune your video footage with adjustments for sharpness, saturation, contrast, brightness, and more. Don't waste time testing and re-adjusting constantly, this product already has it all figured out!
ENHANCED GAMMA SELECTION
Offering an enhanced gamma selection makes for amazing visual optimization. Improve the light, shadow, and colour balance quality of your videos with ease.
MISSING DETAILS IN DARK SCENES IS A THING OF THE PAST
More detail from black-level adjustment means improved visibility of dark images.
CONTRAST ENHANCER
By coming with a contrast enhancer, the surveillance monitor enables low-contrast images to become more clear and defined.
ADAPTABLE TO SURVEILLANCE ENVIRONMENT NEEDS
Tailor the display to your needs with on/off toggles for the blue screen. When there is no signal available, a blue screen will show that is ideally designed for dark and low-light environments.
Main Features
Versatile connectivity: VGA, HDMI, Composite (BNC) inputs
Composite (BNC) passive loop-through output port
Quick Image settings: CCTV Mode, Gamma Selection, Black-level Adjustment, Contrast Enhancer
Designed and developed for continuous 24/7 operation
Categorie : Producten, Video Monitoren, Video
Specificaties
Algemene Informatie
Fabrikant
AG Neovo Technology Corporation
Productnaam
SC-2702 27-Inch 1080p Monitor For Video Surveillance With BNC
Technische Informatie
Horizontal Frequency (Hz)
Horizontal Viewing Angle (°)
Instellingen van standaard
Vertical Viewing Angle (°)
Viewable Screen Size (mm)
Audio
Weight with Stand (Approximate) (g)
Beeldscherm
Camera
Category Specific Attributes
Energie
Garantie
Interfaces/Poorten
Productinformatie
Montage
Muurmontage, Op muur monteerbaar, Plafondmontage
Uiterlijke kenmerken
Gewicht inclusief voet (bij benadering)
Video
Standaard vernieuwingssnelheid
Overige
Inhoud verpakking
SC-2702 27-Inch 1080p Monitor For Video Surveillance With BNC
Audio Cable
Power Cord
Quick Start Guide
VGA Cable
Warranty Card
Kenmerken
Anti-Burn-in Technology, Anti-glare, Cable Lock Slot, Contrast Enhancer, Ergonomic Design, MultiScreen