AG Neovo DW 3401 DW-serie 34" WQHD USB C-monitor, Landscape, compatibel met VESA-montage
Merken:
AG Neovo
Artikelnr #:DW-3401
Model #: DW-3401
Naam: AG Neovo DW 3401 DW Series 34" WQHD USB C Monitor, Landscape, VESA Mount Compatible
5 ms response time makes it excellent for latest action films, sports or gaming
Furnishes captivating visuals with 350 cd/m² brightness levels
The 3440x1440 resolution with UltraWide Quad HD mode amazingly sharp picture quality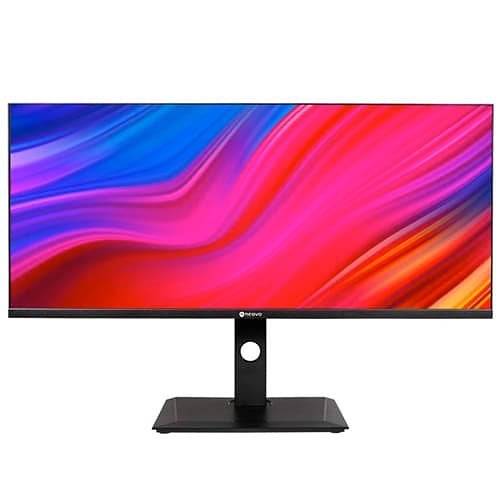 Productoverzicht
Algemeen Informatie
The DW3401 34-Inch USB-C monitor is designed to provide productive workspace for multi-tasking on a single screen at the office and home. With a one-cable solution, it is easy to connect the laptop or tablet while charging the device, allowing you to start working quickly. In addition, the LCD monitor features 3440 x 1440 ultrawide resolution with 21:9 aspect ratio, wide viewing angle and richer color performance, delivering crisp and accurate image performance in detail. Its full-function ergonomic stand allows to build up a productive and comfortable working environment for document editing, web design, artwork creation and video production.
USB-C ONE-CABLE CONNECTION TO START PRODUCTIVE WORK QUICKLY
Start to work quickly and keep your desktop looking neat with the USB Type-C port connectivity. The video, audio, data and power can be transferred via the convenience of one cable.
USB Power Delivery
Power and charge your laptop, tablet or mobile phone through the USB-C cable (up to 65 W).
Super Speed Data Transfer
Enjoy fast data transfer rates up to 5 Gbps.
2K Video Quality
Display 2K video from your notebook over a single USB-C connector and cable.
3440 X 1440 CRISP IMAGE QUALITY
The DW3401 USB-C monitor features 3,440 x 1,440 pixels delivers razor-sharp image detail.
SEE MORE CONTENT AND MULTI-TASKING
This 21:9 aspeact ratio offers much wider space to view more columns on one excel files, codings or tool bar for video editors. Its around 30% more space than 16:9 aspect ratio is also ideal for multi-tasking to view different windows for more productive work.
COLOR PERFORMANCE
The LCD screen provides wider color space to cover various standard, including 130% sRGB, 110% Adobe RGB and 100% DCI-P3 to offer accurate colors and vivid images for impressive color performance.
ACCURATE AND CONSISTENT
Achieving Delta E=2 color accuracy, the DW3401 renders true-to-life color reproduction and ensures your creatives on the screen can be exactly represented as you see.
SMOOTHER MOTION PICTURE QUALITY
The DW3401 features 75hz refresh rate to provide smooth scrolling and see more visual elements on fast-moving objects.
SEAMLESS GAMEPLAY
The adaptive sync functionality can synchronize with the graphics card to squash screen tearing, stutter, and input latency. You can enjoy seamless gameplay for the sports, racing games for console or casual gaming.
IPS WIDE VIEWING ANGLE
With IPS panel technology, this 34-inch 1440p USB-C monitor delivers the same image quality whether you are looking at the screen from above, below, the front, or the side.
Main Features
5 ms response time makes it excellent for latest action films, sports or gaming
Furnishes captivating visuals with 350 cd/m² brightness levels
The 3440x1440 resolution with UltraWide Quad HD mode amazingly sharp picture quality
LED backlight technology provides for industry-leading low power consumption and less hazardous materials
21:9 aspect ratio provides the best display for video recorded in the CinemaScope format
HDMI (High Definition Multimedia Interface) offers fantastic sound/video quality and single-cable comfort
VESA mount compatibility allows you to mount the display on a wall or with a stand depending on your specific needs
DisplayPort interface that transmits both audio and video signals through a single connection to deliver versatile performance
Categorie : Digitale Bewegwijzering, Pro AV, Producten, Commerciële Displays
Specificaties
Algemene Informatie
Fabrikant
AG Neovo Technology Corporation
Productnaam
DW3401 34-Inch 1440p Ultrawide USB-C Monitor
Technische Informatie
Horizontal Frequency (Hz)
Horizontal Viewing Angle (°)
Instellingen van standaard
Paneeltechnologie
In-plane Switching (IPS) technologie
Standaard in hoogte verstelbaar
Vertical Viewing Angle (°)
Viewable Screen Size (mm)
Audio
Weight with Stand (Approximate) (g)
Beeld
Beeldscherm
Camera
Garantie
Interfaces/Poorten
Productinformatie
Montage
Muurmontage, Op muur monteerbaar
Uiterlijke kenmerken
Gewicht inclusief voet (bij benadering)
Video
Kleurengamma
100% DCI-P3, 110% Adobe RGB, 130% sRGB
Standaard vernieuwingssnelheid
Tearingpreventie technologie
Overige
Inhoud verpakking
DW3401 34-Inch 1440p Ultrawide USB-C Monitor
HDMI Cable
Power Cord
Quick Start Guide
Screw Stud
USB-C Cable
Warranty Card
Kenmerken
Anti-glare, Brede kijkhoek, Ergonomic Design, Eye Comfort Technology, Flicker-free, High Dynamic Range (HDR) 400, Low Blue Light, Picture by Picture, Picture in Picture, sRGB