Dahua XVR5216AN-4KL-I3 WizSense 16-kanaals 4K-N 5MP Penta-Brid HDCVI DVR, 128Mbps, 1U, 2HDD's
Merken:
Dahua Technology
Artikelnr #:XVR5216AN-4KL-I3
Model #: DH-XVR5216AN-4KL-I3
Naam: Dahua XVR5216AN-4KL-I3 WizSense 16-Channel 4K-N 5MP Penta-Brid HDCVI DVR, 128Mbps, 1U, 2HDDs
Supports Full-channel AI-Coding.
Supports HDCVI/AHD/TVI/CVBS/IP video inputs.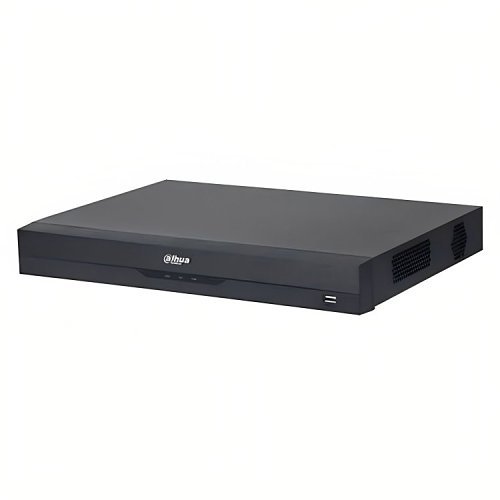 Productoverzicht
Algemeen Informatie
Launched by Dahua Technology, WizSense is a series of AI products and solutions that adopt independent AI chip and deep learning algorithm. It focuses on human and vehicle with high accuracy, enabling users to fast act on defined targets. Based on Dahua's advanced technologies, WizSense provides intelligent, simple and inclusive products and solutions.

Series Overview
Dahua Technology, a world-leading video-centric smart IoT solution and service provider, debuted its new XVR series, XVR5000-4KL-I3 Series featuring max.full-channel SMD Plus to benefit customers from AI upgrade (The number of channels differs depending on the model. Please refer to the specifications below for information on the number of channels.). This series has been developed to reduce false-alarm rates and the cost of human surveillance, thus bringing great value to customers in search of products with accurate human/vehicle alarm to raise the security level of various indoor and outdoor facilities.

Functions I Face Recognition

Dahua Face Recognition technology extracts the features of captured faces and compares them with that in face database to recognize the person identity.
The Face Recognition is conflicted with SMD Plus and Perimeter Protection

Perimeter Protection
Automatically filters out false alarms caused by animals, rustling leaves, bright lights, etc. Enables system to act secondary recognition for the targets. Improves alarm accuracy.

SMD Plus
With intelligent algorithm, Dahua Smart Motion Detection technology can categorize the targets that trigger motion detection and filter the motion detection alarm triggered by non-concerned targets to realize effective and accurate alarm

Scheduled AI
This technology allows multiple AI functions to be set for one channel based on time frames, eliminating the need to manually configure the system to switch between functions each time. Scheduled AI greatly increases efficiency and widens the number of scenarios that the device can be used in.

Smart Dual Illuminators
With Smart Dual Illuminators technology, you can select Smart Illumination Mode for the system to automatically switch between IR mode and white light mode. It allows white light to be turned on when a target is detected by the SMD Plus/Perimeter Protection function of AI-enabled XVR. This significantly reduces light pollution at night. Together with other modes, including IR Mode and White Light Mode, the smart dual illumination technology can meet the requirements of a wide variety of scenes.

One-click Arming/Disarming
With just one click, you can enable or disable alarm linkages to show messages, send emails, output audio alarms and more, through the mobile app and platform.
Main Features
Supports Full-channel AI-Coding.
Supports HDCVI/AHD/TVI/CVBS/IP video inputs.
Categorie : Video, Producten, DVR's, Opnameapparatuur
Specificaties
Algemene Informatie
Fabrikant
Zhejiang Dahua Technology Co., Ltd.
Productnaam
16 Channel Penta-brid 4K-N/5MP 1U WizSense Videobewakingsstation
Technische Informatie
Videoformaten
H.264+, Motion JPEG, PAL, Smart H.265+
Camera
Connectiviteitstechnologie
Energie
Interfaces/Poorten
Totaal aantal audio-ingangspoorten
Totaal aantal audio-uitgangspoorten
Netwerk & Communicatie
Opslag
Uiterlijke kenmerken
Video