STI-15D10ML Euro Stopper Multi Kit, opbouw, geen signaalgever, rood
Merken:
Safety Technology International
Artikelnr #:STI-15D10ML
Model #: STI-15D10ML
Naam: STI-15D10ML Euro Stopper Multi Kit, Surface Mount (50mm Spacer), No Sounder, Red
Surface Mount (50mm spacer)
3-year guarantee, 1-year on electronics
Multi Kit includes UV-stabilised polycarbonate housing, red and green housing shells, sounder cartridge, 50mm spacer, multilingual label sheets, glow guide and a break seal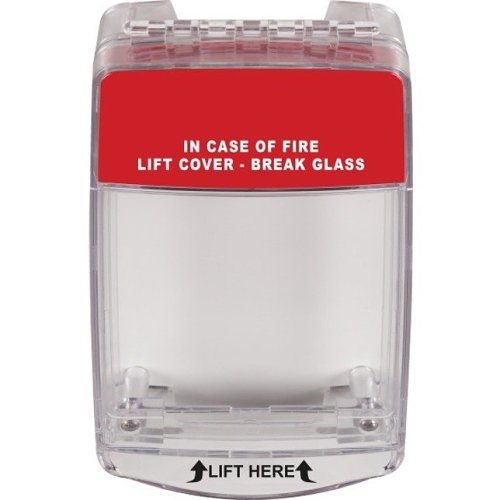 Productoverzicht
Algemeen Informatie
Protective cover helps prevent malicious or accidental activation. The Euro Stopper consists of a clear, tamper proof, tough UV-stabilised polycarbonate cover and frame that retrofits over the break glass call point.
The Glow Guide, a unique material that is embedded in the perimeter of the frame, illuminates in the dark creating a radiant glow around the manual call point making it easier to locate in dark areas. Ideal for schools, colleges, hospitals, nursing homes, hotels and all public buildings where there is a history or a threat of false activation.
The Multi Kit comes with one Euro Stopper frame embedded with the Glow Guide, 2 coloured housing shells (red & green), 1 break seal and 2 label sheets in 13 languages. Available with or without sounder.
Main Features
Surface Mount (50mm spacer)
3-year guarantee, 1-year on electronics
Multi Kit includes UV-stabilised polycarbonate housing, red and green housing shells, sounder cartridge, 50mm spacer, multilingual label sheets, glow guide and a break seal
104 mm H x 96 mm W x 82 mm D
Categorie : Brand, Producten, Brandaccessoires, Stoppers
Specificaties
Algemene Informatie
Fabrikant
Safety Technology International, Inc
Productfuncties
Brand, Enclosures & Covers, False Alarms
Uiterlijke kenmerken
Duurzaamheid
Schadebestendig, Schokbestendig, Tamper Proof
Toepassing/gebruik
College, Hospital, Hotel, Meldpunt, School, Verpleeghuis
Overige
Kenmerken
Opbouw, UV-gestabiliseerd