Honeywell OM55BHOND OmniClass 2.0 Smart muur switch met Keypad lezer, 13.56MHz
Merken:
Honeywell Commercial Security
Artikelnr #:OM55BHOND
Model #: OM55BHOND
Naam: Honeywell OM55BHOND OmniClass 2.0 Smart Wall Switch with Keypad Reader, Pigtail, 13.56MHz
13.56 MHz contactless secure smart card readers that offers superb reliability, consistent read range and ease of installation
Two piece installation with mounting base and reader
Converge multiple credential technologies onto one reader platform with support for Prox, Smart and Mobile credentials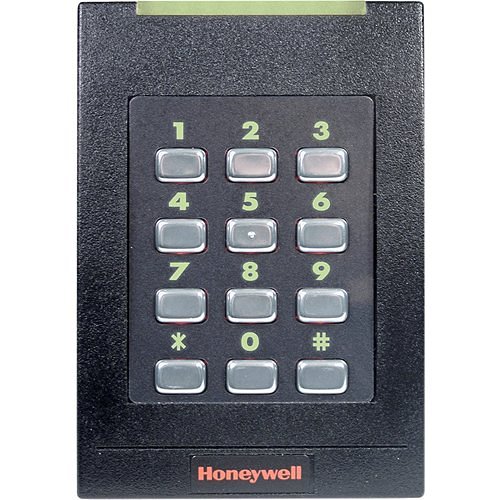 Productoverzicht
Algemeen Informatie
OmniClass™ from Honeywell is a range of 13.56 MHz contactless secure smart card readers that offers superb reliability, consistent read range and ease of installation. They are available in several sizes and each OmniClass reader incorporates smart card technology allowing the user to support biometric profiles and multiple applications on each card simultaneously.
OmniClass can retro-fit any Wiegand output reader, including standard HID® or Honeywell proximity readers.
Smart card technology is ideally suited for access control, logical (PC) access, storage of biometric templates, parking, secure ID's with embedded tamper-proof digital photos, ePurse and many other applications requiring secure and reliable read/write cards.
Multi Technology Functionality
To make it easier for customers to transition to a smart card system from a 125 kHz prox card system, the range includes options that can support HID Prox, EM4102 and AWID proximity technologies. These multi-technology readers work with all technologies simultaneously and will allow the user to transition to smart cards over time while incorporating the use of multiple card technologies within a single building or across multiple facilities.
In addition, the OmniClass reader range provides enhanced security through mutual authentication and data encryption when using the smart card credential based on the encrypted contactless communication. Whether reading proximity, OmniClass or multitechnology cards, identical user identification data formats are sent to the panel, keeping the data on the card transparent to the user.
The OmniClass reader range benefits include:
Suitable for integrated access control systems: A fast response time between two consecutive card reads makes it suitable for integrated access control and intrusion systems where a triple swipe action at the reader is needed to arm the system.
More Open: OmniClass 2.0 readers support global 13.56 MHz smart card technology standards including OmniClass, OmniClass 2.0, iCLASS®, iCLASS SR™/SE®, iCLASS® Seos™ as well as MIFARE Classic and MIFARE DESFire EV1. Optionally 125 kHz Prox technology is supported including HID® Prox, EM4102 and AWID
More Secure: Card numbers for OmniClass/iClass credentials are safely stored and transmitted using 64-bit authentication keys encryption, which is suitable for most access control applications. A higher level of security can be achieved using the AES encrypted iClass SE/ iCLASS Seos and MIFARE DESFire EV1 credentials. Additional keypad versions are available for dual authentication.
Convenience: Card numbers are printed on the OmniClass cards/credentials. MIFARE Card Serial Numbers (CSN) also supported. Interoperability between vendors & applications is possible via the smart card's accessible memory.
Easy to install: Two piece installation, only mounting plate and reader. Wiegand output for new and retrofit installations, indoor and outdoor.
Simple transition from 125 kHz PROX to OmniClass smart cards: Multi technology OmniClass readers make it easy for a HID Prox, EM4102 or AWID card based technology system to transition to an OmniClass smart card based solution.
Main Features
Zwarte uitvoering, wandmontageuitvoering met toetsenblok, IP55, Wiegand-uitgang
Compatibel met OmniClass, iCLASS, SEOS, SE voor MIFARE CLASSIC, SE voor DESFire EV1
Geschikt om met een drievoudige 'swipe' inbraakdetectiegroepen in te schakelen
Voeding 5-16 V DC, afmetingen (B x H x D): 85 x 122 x 18 mm
Pigtail-aansluiting, met led-regeling, anti-sabotage- en blokkeerdraad (voor NetAXS-123 in/out)
Tevens versie met klemmenblok verkrijgbaar (OM55BHONDT)
Categorie : Producten, Keypads & Lezers, Slimme lezers, Toegangscontrole
Specificaties
Algemene Informatie
Fabrikant
Honeywell International, Inc
Technische Informatie
Maximum Operating Range (mm)
Camera
Connectiviteitstechnologie
Uiterlijke kenmerken