Bosch 7000i Autodome Serie, Starlight IP66 2MP 4.3-129mm Gemotoriseerde Varifocale lens IP PTZ camera, wit
Merken:
Bosch
Artikelnr #:NDP-7512-Z30
Model #: F.01U.352.678
Naam: Bosch 7000i AutoDome Series, Starlight IP66 2MP 4.3-129mm Motorized Varifocal Lens IP PTZ Camera, White
Incorporates the latest H.265 video compression technology to reduce bandwidth and storage requirements
Built-in Intelligent Video Analytics alert operators in case of unusual scene activity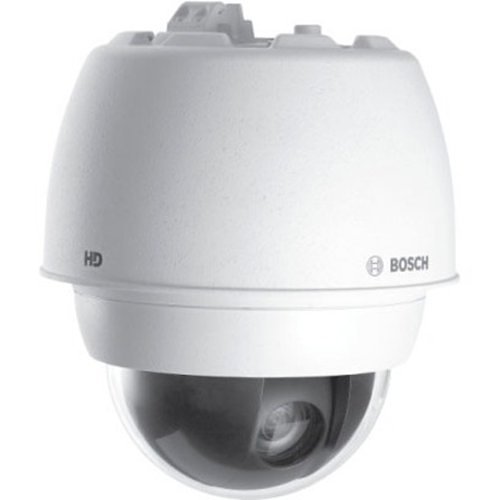 Productoverzicht
Algemeen Informatie
The AUTODOME IP starlight 7000i camera combines advanced Video Analytics, starlight technology, and high-quality video streaming. It delivers exceptional low-light performance with excellent color sensitivity even in minimal ambient light. The camera features a high dynamic range mode that captures details in both bright and dark areas of the scene simultaneously. It utilizes H.265 high-efficiency video encoding for delivering high-resolution video with low network load. The camera has a convenient snap-to-zoom feature that allows users to draw a box in the image to trigger zooming. It incorporates Intelligent Video Analytics on the edge, providing reliable detection and analysis of moving objects while suppressing false alarms. The camera supports video analytics even while it is moving, allowing for continuous monitoring and triggering alarms in specific areas. It also includes Intelligent Tracking, which uses robust flow detection algorithms to follow and track objects within the scene accurately. The camera is easy to install and comes in outdoor pendant or indoor in-ceiling housing options.
Main Features
AUTODOME IP Starlight 7000i PTZ Dome camera
Voor buitengebruik
Resolutie 2MP
Zoomlens 30x ( 65°-2.3°)
Geen IR
IP66
24VAC & HiPoE
Quad stream, iDNR, iTracking, I/O: 2/1, audio I/O, Intelligent Video Analytics
Categorie : PTZ Camera's, Video, Producten, IP Camera's
Specificaties
Algemene Informatie
Productnaam
NDP-7512-Z30 PTZ 2MP HDR 30x transparant IP66 hangend
Technische Informatie
Effectieve cameraresolutie
Maximum Focal Length (mm)
Minimale brandpuntafstand
Beeldscherm
Effective Camera Resolution (Pixel)
Camera
Connectiviteitstechnologie
Energie
Garantie
Interfaces/Poorten
Lens
Maximale brandpuntafstand
Netwerk & Communicatie
Opslag
Productinformatie
Montage
Dakbevestiging, Muurbevestiging, Paal bevestiging, Plafondmontage, Plafondsteun, Plafondsteun DS-1299ZJ
Projectielens
Minimum Focal Length (mm)
Uiterlijke kenmerken
Video
Overige
Inhoud verpakking
AutoDome IP Starlight 7000i
1 x Acrylic Bubble and Sunshield
1 x Safety Instructions