Bosch 3000i Flexidome Serie, IP66 2MP 3.2-10mm Gemotoriseerde Varifocale lens IR 30M IP dome camera, wit
Merken:
Bosch
Artikelnr #:NDE-3502-AL
Model #: NDE-3502-AL
Naam: Bosch 3000i FlexiDome Series, IP66 2MP 3.2-10mm Motorized Varifocal Lens IR 30M IP Dome Camera, White
Built-in Essential Video Analytics to trigger relevant alerts and quickly retrieve data
Fully configurable H.265 multi-streaming
Easy to install with zoom/focus lens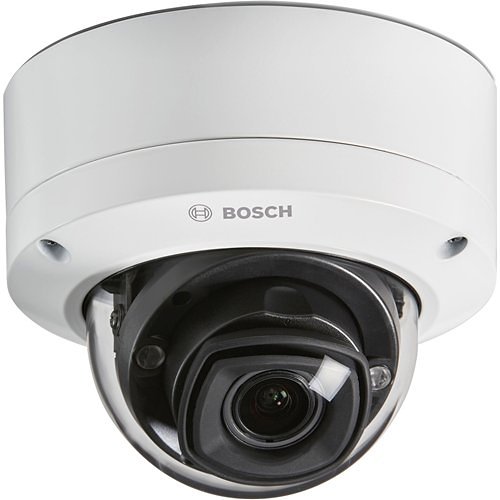 Productoverzicht
Algemeen Informatie
The FLEXIDOME IP 3000iprofessional surveillance camera provides high quality images for demanding security and surveillance network requirements, even in extreme low light environments.
The compact and minimalist design, with an included mounting plate, provides high installation flexibility, and is compatible with the universal accessories from Bosch, offering various mounting options.

Essential Video Analytics
The built-in video analysis reinforces the Intelligenceat-the-Edge concept and now delivers even more powerful features. Essential Video Analytics is ideal for use in controlled environments with limited detection ranges.

Intelligent Dynamic Noise Reduction
The camera uses Intelligent Dynamic Noise Reduction which actively analyzes the contents of a scene and reduces noise artifacts accordingly.
The low-noise image and the efficient H.264/H.265 compression technology provide clear images while reducing bandwidth and storage by up to 50% compared to typical H.264/H.265 cameras. This results in reduced-bandwidth streams that still retain a high image quality and smooth motion. The camera provides the most usable image possible by cleverly optimizing the detail-to-bandwidth ratio.

1080p or 5MP resolutions with multiple streams
The camera is available in a 1080p resolution version at 30 frames per second (fps) or a 5MP resolution version at 20 ips.
The innovative multi-streaming feature delivers various H.265 streams together with an M-JPEG stream. These streams facilitate bandwidth-efficient viewing and recording as well as integration with third-party video
management systems.
Depending on the resolution and frame rate selected for the first stream, the second stream provides a copy of the first stream or a lower resolution stream. The third stream uses the I-frames of the first stream for recording; the fourth stream shows a JPEG image at a maximum of 10 Mbit/s.

High Dynamic Range
The camera has High Dynamic Range. This is based on a multiple-exposure process that captures more details in the highlights and in the shadows even in the same scene. The result is that you can easily distinguish objects and features, for example, faces with bright backlight.
Main Features
IP Dome camera
Voor Buitengebruik
Resolutie: 2MP
Lens 3,2-10mm Auto VariFocal AVF, IR corrected
IR 30m
IP66 IK10
12VDC & POE
Lokale SD opslag, tamper en motion detectie, 120dB WDR, Essential Video Analytics
Alarm I/O (1/1)en Audio I/O
Categorie : Dome Camera's, IP Camera's, Producten, Video
Specificaties
Algemene Informatie
Productnaam
NDE-3502-AL Vaste dome 2MP HDR 3,2-10mm IP66 IK10 IR
Technical Information
Maximum Focal Length (mm)
Minimale brandpuntafstand
Technische Informatie
Effectieve cameraresolutie
Camera
Connectiviteitstechnologie
Night Vision Distance (mm)
Display & Graphics
Effective Camera Resolution (Pixel)
Interfaces/Poorten
Lens
Maximale brandpuntafstand
Netwerk & Communicatie
Physical Characteristics
Product Information
Productinformatie
Projectielens
Minimum Focal Length (mm)
Storage
Uiterlijke kenmerken
Overige