Bosch NBN-63013-B DINION IP Starlight 6000 HD vaste camera, 1MP HDR
Merken:
Bosch
Artikelnr #:NBN-63013-B
Model #: F.01U.314.349
Naam: Bosch NBN-63013-B DINION IP Starlight 6000 HD 1MP HDR Fixed Box Camera, Metallic Titanium
Built-in Essential Video Analytics to trigger relevant
Alerts and quickly retrieve data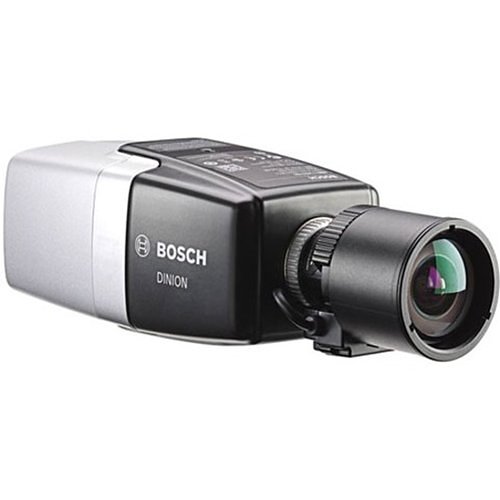 Productoverzicht
Algemeen Informatie
This camera provides clear images 24/7 - even at night or under low-light conditions.
The exceptional starlight sensitivity enables this camera to work with a minimum of ambient light. The extended dynamic mode provides detailed images in scenes with challenging lighting.
The camera is available in 1080p or 720p resolution versions and provides up to 60 images per second. There is a selection of high quality lenses separately available.

Functions

Exceptional low-light performance
The latest sensor technology combined with the sophisticated noise suppression results in an exceptional sensitivity in color. The low-light performance is so good that the camera continues to provide excellent color performance even with a minimum of ambient light.

Fast performance
The 60 frames per second mode provides for optimum performance in fast action scenes that ensures no critical data is lost.

High Dynamic Range
The camera has High Dynamic Range. This is based on a multiple-exposure process that captures more details in the highlights and in the shadows even in the same scene. The result is that you can easily distinguish objects and features, for example, faces with bright backlight.

The actual dynamic range of the camera is measured using Opto-Electronic Conversion Function (OECF) analysis according to IEC 62676 Part 5. This method is used to provide a standard result which can be used to compare different cameras.

Essential Video Analytics
The built-in video analysis reinforces the Intelligenceat-the-Edge concept and now delivers even more powerful features. Essential Video Analytics is ideal for use in controlled environments with limited detection ranges.
The system reliably detects, tracks, and analyzes objects, and alerts you when predefined alarms are triggered. A smart set of alarm rules makes complex tasks easy and reduces false alarms to a minimum. Metadata is attached to your video to add sense and structure. This enables you to quickly retrieve the relevant images from hours of stored video. Metadata can also be used to deliver irrefutable forensic evidence or to optimize business processes based on people counting or crowd density information.
Calibration is quick and easy - just enter the height of the camera. The internal gyro/accelerometer sensor provides the rest of the information to precisely calibrate the video analytics.

Intelligent Auto Exposure
Fluctuations in backlight and front light can ruin your images. To achieve the perfect picture in every situation, Intelligent Auto Exposure automatically adjusts the exposure of the camera. It offers superb front light compensation and incredible backlight compensation by automatically adapting to changing light conditions.
Main Features
IP Box camera
720p 60fps
Geen lens
Geen IR
Indoor 12VDC, 24VAC, POE
Lokale SD opslag, Alarm & Audio I/O, Hybride (CVBS output)
IVA Video analytics
Categorie : Video, Box Camera's, Producten, IP Camera's
Specificaties
Algemene Informatie
Productnaam
NBN-63013-B Vaste camera 1MP HDR
Technische Informatie
Effectieve cameraresolutie
Beeldscherm
Effective Camera Resolution (Pixel)
Belichting
Camera
Connectiviteitstechnologie
Energie
Interfaces/Poorten
Lens
Netwerk & Communicatie
Omgeving
Maximale gebruikstemperatuur
Maximum Operating Temperature (°F)
Minimale gebruikstemperatuur
Minimum Operating Temperature (°F)
Opslag
Productinformatie
Montage
Bracket Mount, Column Mount, Junction Box Montage, Plafondmontage, Plafondsteun, Tripodbevestiging, Wandmontage
Uiterlijke kenmerken
Video
Overige
Kenmerken
Audio Detection, Auto Gain Control, Automatic Defog, Automatic White Balance, Back Light Compensation (BLC), Cross Line Detection, Dynamic Noise Reduction, Enter/Exit Detector, Groot dynamisch bereik (WDR), Privacy Masking, Region of Interest, Sabotagealarm, SD Card Local Storage, SD-kaart plaatselijke opslag, Witbalans