Bosch 7100i MIC Serie, Starlight IP68 2MP 6.60-198mm Gemotoriseerde Varifocale lens IP PTZ camera, zwart
Merken:
Bosch
Artikelnr #:MIC-7522-Z30B
Model #: F.01U.353.588
Naam: Bosch MIC-7522-Z30B MIC IP Starlight 7100i 2MP HDR PTZ Camera, 30x Motorized Zoom Lens, Black
Starlight camera technology with excellent low-light sensitivity (color = 0.0047 lx) and High dynamic range (120 dB) (to see details in bright and dark areas simultaneously)
Exceptional strength and ruggedness for any outdoor application including traffic monitoring (bridges, tunnels, or highways), perimeter protection, city surveillance, and mining
Built-in Camera Trainer to train the camera to recognize user-specified target objects, such as moving and non-moving objects, to alert operators of unusual scene activity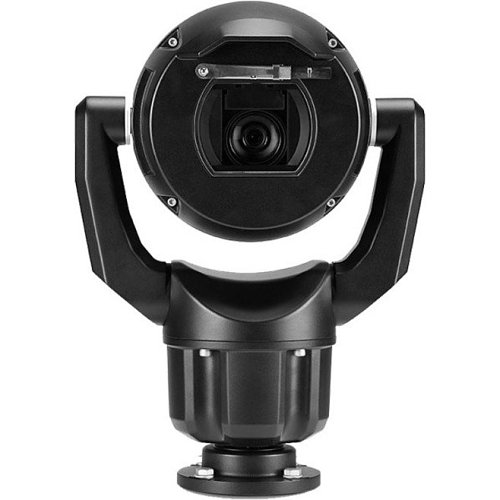 Productoverzicht
Algemeen Informatie
The MIC IP starlight 7100i camera is an advanced PTZ surveillance platform for mission-critical applications. With starlight imaging technology and excellent lowlight sensitivity, the camera is the perfect solution for robust and high-quality imaging needs.
The camera's ruggedized design meets customer expectations in demanding environments that exceed the capabilities of conventional IP cameras. Even in installations subject to harsh shock/vibration conditions and/or extreme weather, the camera provides high-quality video images.
Main Features
IP PTZ Camera
Voor buitengebruik en vandaalbestendig
Resolutie 2MP
Lens: 6,6-198mm 30x
Optioneel IR/Wit Licht combo straler
Voeding: AC24V, PoE+
IP68, IK10
Categorie : IP Camera's, Video, PTZ Camera's, Producten
Specificaties
Algemene Informatie
Productnaam
MIC-7522-Z30B PTZ 2MP HDR 30x IP68 zwart
Technische Informatie
Effectieve cameraresolutie
Maximum Focal Length (mm)
Minimale brandpuntafstand
Beeldscherm
Effective Camera Resolution (Pixel)
Belichting
Camera
Connectiviteitstechnologie
Night Vision Distance (mm)
Energie
Interfaces/Poorten
Lens
Maximale brandpuntafstand
Netwerk & Communicatie
Omgeving
Maximale gebruikstemperatuur
Maximum Operating Temperature (°F)
Minimale gebruikstemperatuur
Minimum Operating Temperature (°F)
Opslag
Productinformatie
Montage
Bracket Mount, Muurbevestiging, Plafondsteun, Wandmontage
Projectielens
Minimum Focal Length (mm)
Uiterlijke kenmerken
Duurzaamheid
Corrosion Resistant, Impactbestendig, Stofbestendig, Vibration Resistant, Zoutbestendig
Video
Overige
Inhoud verpakking
1 x PTZ 2MP HDR 30x IP68 Black
1 x Spanner Tool
1 x Base Gasket
1 x RJ45 Coupler
1 x MAC Address Labels
1 x Quick Installation Guide
1 x Safety Instructions
Kenmerken
Auto Gain Control, Automatic White Balance, Back Light Compensation (BLC), Built-in Infrared Illuminator, Built-in IR LED, Cross Line Detection, Defog, Dynamic Noise Reduction, Enter/Exit Detector, Privacy Masking, Removable IR Cut-off Filter, Rugged Design, Sabotagealarm, Witbalans