Dahua IPC-HFW5442H-ZE Wizmind Serie, IP67 4MP 2,7-12mm Gemotoriseerde Varifocale lens, IR 60M IP bullet camera, wit
Merken:
Dahua Technology
Artikelnr #:IPCHFW5442HZE
Model #: DH-IPC-HFW5442HP-ZE-2712
Naam: Dahua IPC-HFW5442H-ZE Wizmind Series, IP67 4MP 2.7–12mm Motorized Varifocal Lens, IR 60M IP Bullet Camera, White
Outputs max. 4MP (2688 × 1520) @30 fps
Max. IR distance: 60 m
ROI, SMART H.264+/H.265+, flexible coding, applicable to various bandwidth and storage environments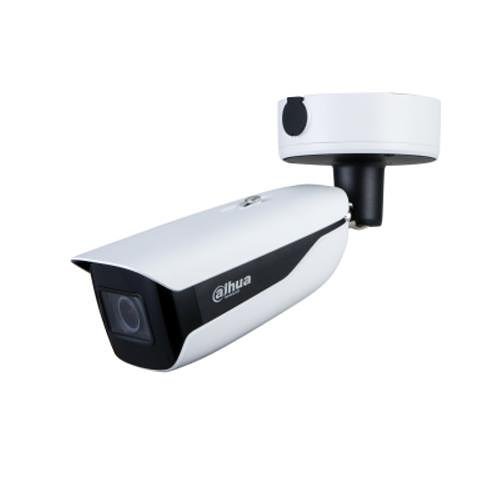 Productoverzicht
Algemeen Informatie
Dahua WizMind is een breed scala aan projectgeoriënteerde producten die gebruikmaken van toonaangevende deep learning-algoritmen, zoals IPC, NVR, PTZ, XVR, thermische camera's en softwareplatformen. WizMind richt zich op de behoeften van klanten en biedt nauwkeurige en betrouwbare en uitgebreide AI-producten voor verticale markten. Nauwkeurig: Aangedreven door AI-chip en deep learning-algoritmen, levert WizMind nauwkeurige detectie en herkenning van mens en voertuig, waardoor gebruikers snel en nauwkeurig kunnen handelen op wat er echt toe doet. Bovendien biedt het nauwkeurige en effectieve AI-zoekopdrachten om doelen te lokaliseren en verschillende op mensen gebaseerde gegevens voor bedrijfsanalyse. Betrouwbaar: Strikte selectie van componenten om de hoge productbetrouwbaarheid te garanderen. Met grondige tests van front-end camera's, back-end apparaat en platform, voegt WizMind betrouwbaarheid toe aan al zijn oplossingen. Uitgebreid: WizMind richt zich op mens en voertuig en biedt verschillende toepassingsoplossingen zoals gezichtsherkenning, privacybescherming, videometadata, stereoanalyse, ANPR, illegaal parkeren, enz. Bovendien combineert WizMind deep learning-algoritmen met warmtebeeldtechnologie om gebruikers te helpen ultra -monitoring over lange afstand in ruwe omgevingen, zeer nauwkeurige contactloze temperatuurmeting met slechts ± 0,3 temperatuurverschil en vroege detectie van brand.
Main Features
Resolutie: 4 Magepixel
Lens: 2.7-12 millimeter varifocal
Nachtvisie: 60 meter
Beschermingsgraad: IP67, IK10
Categorie : Video, IP Camera's, Producten, Bullet Camera's
Specificaties
Algemene Informatie
Fabrikant
Zhejiang Dahua Technology Co., Ltd.
Productnaam
DH-IPC-HFW5442HP-ZE-2712 Netwerkcamera
Technische Informatie
Effectieve cameraresolutie
Gezichtsveld
Horizontal: 107°-44° Vertical: 69°-29° Diagonal: 134°-53°
Maximum Focal Length (mm)
Minimale brandpuntafstand
Beeldscherm
Effective Camera Resolution (Pixel)
Belichting
Camera
Connectiviteitstechnologie
Night Vision Distance (mm)
Energie
Interfaces/Poorten
Lens
Maximale brandpuntafstand
Netwerk & Communicatie
Omgeving
Maximale gebruikstemperatuur
Maximum Operating Temperature (°F)
Minimale gebruikstemperatuur
Minimum Operating Temperature (°F)
Opslag
Productinformatie
Montage
Junction Box Montage, Plafondsteun
Projectielens
Minimum Focal Length (mm)
Uiterlijke kenmerken
Duurzaamheid
Dust Proof, Vandal Proof, Water Proof
Video
Overige
Kenmerken
3D Noise Reduction, Auto Gain Control, Automatic White Balance, Back Light Compensation (BLC), Highlight Compensation (HLC), Privacy Masking, Region of Interest, Sabotagealarm, Wachtwoordbescherming, Witbalans