Hochiki HCP-W-SCI ESP Analoge Weerbestendige Alarmcentrale met SCI, Rood
Merken:
HOCHIKI
Artikelnr #:HCP-W(SCI)
Model #: HCP-W(SCI)
Naam: Hochiki HCP-W-SCI Analogue Weatherproof Addressable Call Point with SCI, Red
Fast response
Surface mounted
Bi-coloured status LED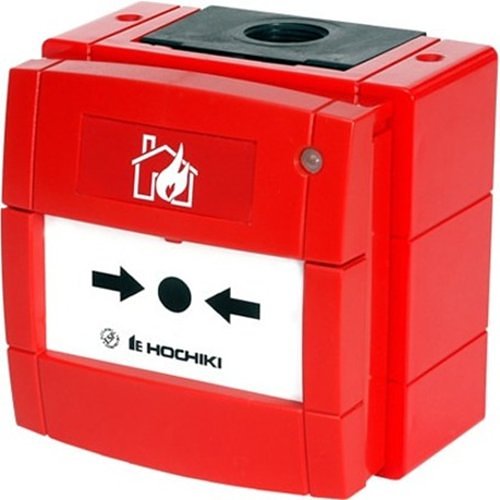 Productoverzicht
Algemeen Informatie
Model HCP-W(SCI) is a weatherproof Manual Call Point with integral short-circuit isolator, which is fully compatible with Hochiki's ESP analogue addressable protocol. The unit incorporates a bi-coloured LED, which can be selected as pulsing/non-pulsing for communications polling and is continuously lit when the HCP-W(SCI) is operated - in these two states the LED will show red. The LED will show amber when a short-circuit is present but will switch to red if the unit is activated. The unit operates by pressing the EN54 compliant non-frangible (plastic) element and produces a high level ESP interrupt. A built in test function initiated by the control panel ensures the integrity of the device at all times and the device can be tested by insertion of a test key in the underside of the unit. Two terminal blocks are provided for easy connection to the loop wiring. The unit is addressed using the TCH-B100 Hand Held Programmer for quick and reliable addressing. An optional glass element is also available.
Main Features
Fast response
Surface mounted
Bi-coloured status LED
LPCB approved to EN54
Integral short-circuit isolator
SIL Level 2 approved variants available
Addressed with TCH-B100 Hand Held Programmer
Non-frangible element fitted as standard (conforms to EN54)
IP67 rated
Categorie : Brand, Producten, Handbrandmelders
Specificaties
Algemene Informatie
Fabrikant
Hochiki America Corporation
Productnaam
HCP-W(SCI) Weatherproof Addressable Call Point with SCI Red
Energie
Omgeving
Maximale gebruikstemperatuur
Maximum Operating Temperature (°F)
Minimale gebruikstemperatuur
Minimum Operating Temperature (°F)
Uiterlijke kenmerken
Overige
Certificaten & Standaarden
IP67
LPCB approved to EN54
SIL Level 2