Dahua HAC-HDBW1231RA-Z-A-DP 2MP Starlight HDCVI IR dome camera
Merken:
Dahua Technology
Artikelnr #:HACHDBW1231RAZA27
Model #: DH-HAC-HDBW1231RAP-Z-A-2712
Naam: Dahua HAC-HDBW1231RA-Z-A-DP 2MP Starlight HDCVI IR Dome Camera
Starlight, 130dB true WDR, 3D NR
Auto focus, 2.7 mm-12 mm motorized lens
CVI/CVBS/AHD/TVI switchable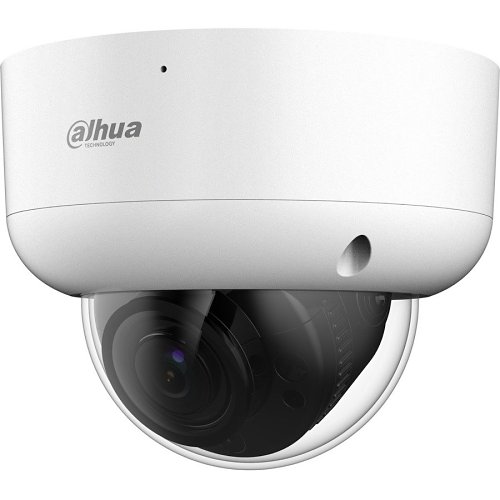 Productoverzicht
Algemeen Informatie
Lite Series is suitable for users who requires high quality monitoring products at areasonable price. It is cost effective and offers high perfor- mance, which makes it an ideal choice for residential and small-medium business applications. This series offers an option of a wide range of technologies such as Full-color and Starlight, providing various solutions for different scenarios.

Functions

Starlight
With the adoption of large sized high performance sensor and large aperture lens, the camera is able to provide incomparable performance even under extreme lowlight environment. The starlight feature allows more details to be captured and accurate color to be recognized at night or in scenes with limited illumination.

Broadcast-quality Audio
Audio information is used as supplementary evidence in video surveil- lance applications. The HDCVI camera supports audio signal transmis- sion over coaxial cable. In addition, it adopts unique audio processing and transmission technology that best restores source audio and eliminates noise, guaranteeing the quality and effectiveness of collected audio information.
Audio input is available for some models of HDCVI cameras.

Wide Dynamic Range
With advanced Wide Dynamic Range (WDR) technology, Dahua HDCVI camera provides clear details in the environment of strong brightness contrast. The bright and dark area can get clear video even in high brightness environment or with backlight shadow.

Super Adapt
Embedded with intelligent algorithm, for changing external environ- ment, camera can automatically adjust parameters to present the optimal image, and it solves the trouble of configuration.

Advanced 3D NR
3D NR is noise reduction technology that detects and eliminates random noises by comparing two sequential frames. Dahua's advanced 3D NR technology allows remarkable noise reduction with little impact to sharpness, especially under limited lighting condition. Besides, the advanced 3D NR effectively decreases the band width and saves the storage space.

Smart Illumination
The camera is designed with IR illumination for best lowlight perfor- mance. Smart IR is a technology to ensure brightness uniformity in B/W image under low illumination. Dahua's unique Smart IR adjusts to the intensity of camera's infrared LEDs to compensate for the distance of an object, and prevents IR LEDs from overexposing images as the object comes closer to the camera.

Protection (IP67, IK10,wide voltage)
IP67: The camera passes a series of strict test on dust and soak. It has dust-proof function, and the enclosure can works normal after soaking in 1 m deep water for 30 mins. IK10: The enclosure can stand the punch more than 5 times from a 5 kg hammer falling from a height of 40 cm (Impact energy is 20J). Wide voltage: The camera allows ±30% (for some power supplies) input voltage tolerance (wide voltage range), and it is widely applied to out- door environment with instable voltage.
Main Features
Starlight, 130dB true WDR, 3D NR
Auto focus, 2.7 mm-12 mm motorized lens
CVI/CVBS/AHD/TVI switchable
Super Adapt
Built-in mic
IP67, IK10, 12V DC
Categorie : HDoC Camera's, Video, Dome Camera's, Producten
Specificaties
Algemene Informatie
Artikelcode fabrikant
DH-HAC-HDBW1231RAP-Z-A-2712
Technical Information
Maximum Focal Length (mm)
Display & Graphics
Effective Camera Resolution (Pixel)
Projectielens
Minimum Focal Length (mm)