Netgear GS105E ProSAFE 5-poorts Gigabit Ethernet Plus Switch
Merken:
Netgear
Artikelnr #:GS105E-200PES
Model #: GS105E-200PES
Naam: Netgear GS105E ProSAFE Plus Switch, 5-Port Gigabit Ethernet
Quickly and easily set up a wired network with 5 networking ports
Auto "denial-of-service" (DoS) prevention
Troubleshoot connection issues via cable test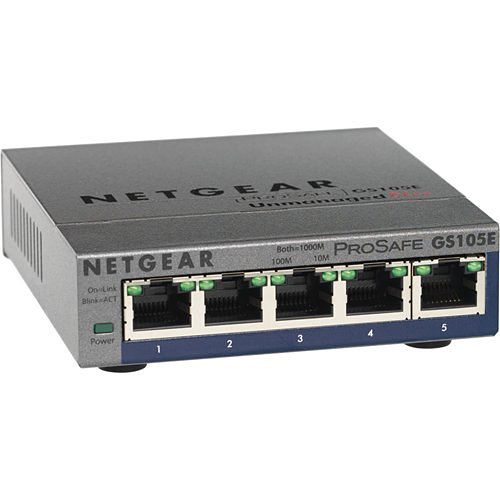 Productoverzicht
Algemeen Informatie
More Capabilities beyond Plug-and-play Connectivity

Today's growing businesses demand and rely more on their network to carry out mission-critical business activities. Companies are putting more
network tra c and applications on their Ethernet infrastructure. For example, the increasing deployments of VoIP phones and IP cameras require more than simple plug-and-play connectivity. It needs the network intelligence to separate the voice and video tra c from data, and prioritize them accordingly. Additionally, Internet-based applications such as Hotmail and Google Calendaring have made keeping the network up a business-critical need. However, companies do not necessarily have more money or advanced training to deal with complex managed switches. NETGEAR's ProSAFE Plus Switches meet this growing need by providing fundamental network features that will help optimize the performance of business networks. ProSAFE Plus Switches also o er tra c monitoring for users to observe tra c behavior. If there are connectivity issues, these switches can identify and even locate connection problems via cable diagnostic test. To optimize tra c through the switches, ProSAFE Plus Switches o er both port and tag-based prioritization to keep latency-sensitive tra c moving ahead of less critical packets. Also, ProSAFE Plus Switches o er port and 802.1Q-based VLAN as a means of improving security and network performance. ProSAFE Plus Switches are an upgrade from the plug-and-play Unmanaged Switch, delivering great value for empowering your network, delivering great value to the end user.
Main Features
ProSafe GS105E
5-Poorten Gigabit 10/100/1000 Mbps
Automatische uplink
Volledige en halve duplex
Externe voeding
Categorie : Data Comm & Netwerken, Netwerk Switches, Hubs, Routers & Switches, Producten
Specificaties
Algemene Informatie
Technische Informatie
Energie
Garantie
Interfaces/Poorten
Gegevens poort/uitbreidingssleuf
5 x Gigabit Ethernet Network
Totaal aantal netwerkpoorten
Management & Protocollen
Media & Performance
Netwerk & Communicatie
Uiterlijke kenmerken
Vormgeving
Desktop, Muurbevestiging mogelijk
Overige
Inhoud verpakking
GS105E Ethernet Switch
Power Adapter
Rack-Mounting Kit
Quick Install Guide
Resource CD with PC Utility Software