Alarm.com ADC-V723-CGI-INT 2MP Draadloze Wi-Fi Camera, Outdoor, Wit
Merken:
Alarm.com
Artikelnr #:ADC-V723-CGI-INT
Model #: ADC-V723-CGI-INT
Naam: Alarm.com ADC-V723-CGI-INT 2MP Compact Wi-Fi IP Camera, 3mm Fixed Lens, IR 12M
For remote surveillance needs, this network camera is best suited
Up to 12.19 m of night vision
CMOS sensor is cheaper as compare to CCD and consumes less power while producing better HD videos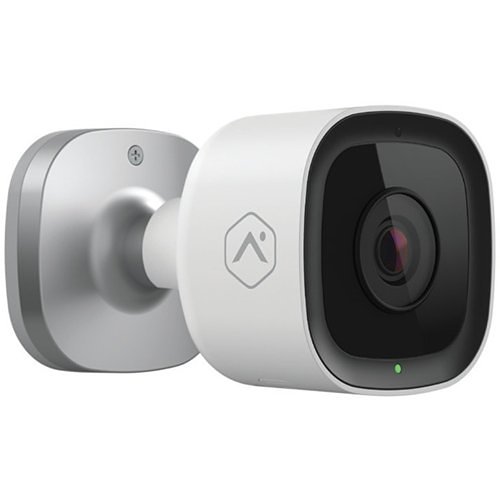 Productoverzicht
Algemeen Informatie
The Alarm.com ADC-V723 is an outdoor Wi-Fi camera that is used with Alarm.com Video Services. The V723 uses H.264 video compression to deliver a high quality recording of any video event. It also has a maximum picture resolution of 1920 x1080 and is high definition quality making sure you'll be able to pick out detail.
The ADC-V723 features a 1/2.7" CMOS 2.1 Megapixel Image Sensor and a 3.0 mm lens that is capable of a 117° field of view. Not only is this camera effective in the daylight hours, but it also has a night vision capacity of viewing up to 40ft. in total darkness. The camera has 802.11 b/g/n Wi-Fi connectivity and operates on the 2.4 & 5 GHz frequencies. You also have some image adjustment features with the ADC-V723 including the ability to flip the image and to adjust brightness, contrast, saturation, sharpness, and exposure through your Alarm.com interface. The ADC-V723 is waterproof and dust-tight and can be used in temperatures ranging from -13°F - 113°F. It measures in at 2.5 x 2.5 x 4.5".
The ADC-V723 features the Alarm.com Video Analytics which allows you to receive snaps when a human, animal, or vehicle is detected so you can see what was captured and when. Video analytics also allows the setting of virtual tripwires and fenced-in areas to provide precise video clips the moment it occurs. You can also use the sensing mode of this camera to trigger ZWave events like turning on an outside light when an area is breached. This is a true advantage over regular cameras and their versions of motion sensing. Keep in mind you must have an alarm.com video package that includes video analytics to take advantage of these features.
Main Features
For remote surveillance needs, this network camera is best suited
Up to 12.19 m of night vision
CMOS sensor is cheaper as compare to CCD and consumes less power while producing better HD videos
Up to 1920 x 1080 video resolution
Can be accessed from anywhere; this wireless security camera is easy to install
Categorie : Smart Beveiligingscamera's, Producten, Smart Home
Specificaties
Algemene Informatie
Productnaam
ADC-V723-CGI-INT Netwerkcamera
Technische Informatie
Effectieve cameraresolutie
Maximum Focal Length (mm)
Beeldscherm
Effective Camera Resolution (Pixel)
Camera
Connectiviteitstechnologie
Night Vision Distance (mm)
Energie
Lens
Maximale brandpuntafstand
Netwerk & Communicatie
Omgeving
Maximale gebruikstemperatuur
Maximum Operating Temperature (°F)
Minimale gebruikstemperatuur
Minimum Operating Temperature (°F)
Opslag
Productinformatie
Uiterlijke kenmerken
Duurzaamheid
Stofbestendig, Water Proof
Overige
Inhoud verpakking
1 x ADC-V723 Outdoor 1080P Wi-Fi Camera
1 x Mounting Plate
1 x Power Supply
User Guide
2 x Wall Anchors & Screws