Apollo 58000-400APO Discovery Series, Hittedetector, wit
Merken:
Apollo Fire
Artikelnr #:58000-400
Model #: 58000-400APO
Naam: Apollo 58000-400APO Discovery Series Heat Detector, White
Well suited for warehouses, loading bays and car parks
Unaffected by wind or atmospheric pressure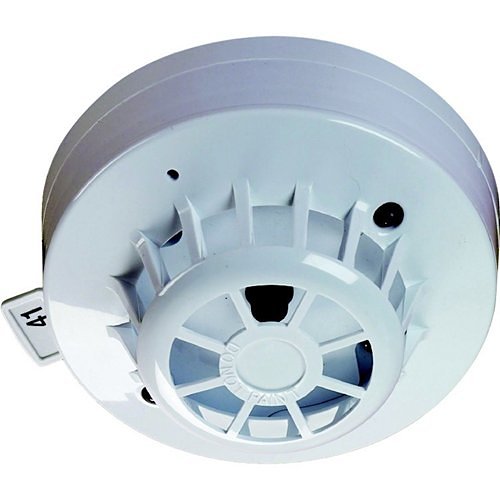 Productoverzicht
Algemeen Informatie
Discovery heat detectors have a common profile with ionisation and optical smoke detectors but have a low air flow resistance case made of self- extinguishing white polycarbonate.
The Discovery Heat Detector uses a single thermistor to sense the air temperature at the detector position. The thermistor is connected in a resistor network, which produces a voltage output dependent on temperature. The design of the resistor network, together with the processing algorithm in the microcontroller, gives an approximately linear characteristic from 10°C to 80°C. This linearised signal is further processed, depending on the response mode selected, and converted to an analogue output.
Main Features
Thermische detector in te stellen als thermo max of differentieel
Gevoeligheid detector in stellen vanaf paneel
5 verschillende standen te selecteren
Apollo Discovery protocol
Geschikt voor de adresseerbare panelen met Apollo protocol
Categorie : Brand, Hittedetectoren, Branddetectieapparatuur, Producten
Specificaties
Algemene Informatie
Technische Informatie
Maximale relatieve vochtigheid
Minimale relatieve vochtigheid
Energie
Uiterlijke kenmerken