Hikvision DS-2DE4425IW-DET5 Pro Series DarkFighter 4MP IR dome IP camera, 4.8-120mm Varifocale lens, wit
Merken:
Hikvision
Artikelnr #:327000240
Model #: DS-2DE4425IW-DE(T5)
Naam: Hikvision DS-2DE4425IW-DET5 Pro Series DarkFighter 4MP IR Dome IP Camera with 25 x Optical Zoom, 4.8-120mm Varifocal Lens, White
Network camera - Helps achieve high-quality video results
Up to 100 m of night vision
CMOS sensor is cheaper as compare to CCD and consumes less power while producing better HD videos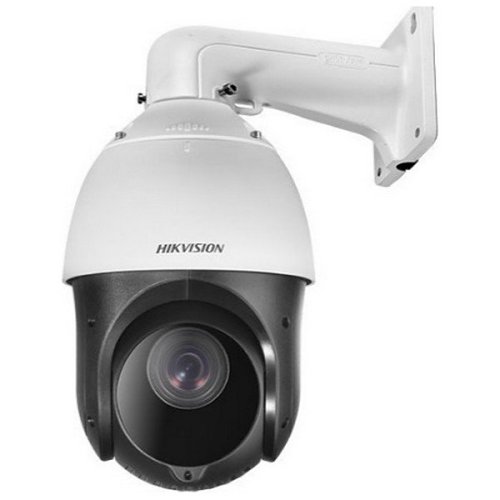 Productoverzicht
Algemeen Informatie
Hikvision DS-2DE4425IW-DE(T5) 4MP 25× Network IR Speed Dome adopts 1/2.8" progressive scan CMOS chip. With the 25× optical zoom lens, the camera offers more details over expansive areas.

This series of cameras can be widely used for wide ranges of high-definition, such as the rivers, roads, railways, airports, squares, parks, scenic spots, and venues, etc. Empowered by deep learning algorithms, Hikvision AcuSense technology brings human and vehicle targets classification alarms to front- and back-end devices. The system focuses on human and vehicle targets, vastly improving alarm efficiency and effectiveness.
Main Features
Focuses on human and vehicle targets classification based on deep learning
Support face capture. Up to 5 faces captured at the same time
1/2.8" progressive scan CMOS
High quality imaging with 4 MP resolution
Excellent low-light performance with powered-by-DarkFighter technology
25× optical zoom and 16× digital zoom provide close up views over expansive areas
Expansive night view with up to 100 m IR distance
Support H.265+/H.265 video compression
Categorie : PTZ Camera's, IP Camera's, Producten, Video
Specificaties
Algemene Informatie
Productnaam
DS-2DE4A425IW-DE(S6) Darkfighter Netwerkcamera
Technische Informatie
Effectieve cameraresolutie
Gezichtsveld
Horizontal field of view: 55° to 2.4° (wide-tele), Vertical field of view: 33° to 1.4° (wide-tele), Diagonal field of view: 61.5° to 2.8° (wide-tele)
Maximum Focal Length (mm)
Minimale brandpuntafstand
Beeldscherm
Effective Camera Resolution (Pixel)
Belichting
Camera
Connectiviteitstechnologie
Night Vision Distance (mm)
Energie
Interfaces/Poorten
Lens
Maximale brandpuntafstand
Netwerk & Communicatie
Omgeving
Maximale gebruikstemperatuur
Maximum Operating Temperature (°F)
Minimale gebruikstemperatuur
Minimum Operating Temperature (°F)
Opslag
Productinformatie
Montage
Muurbevestiging, Plafondmontage, Plafondsteun, Plafondsteun DS-1299ZJ, Vertical Mount, Wandmontage
Projectielens
Minimum Focal Length (mm)
Uiterlijke kenmerken
Video
Overige
Inhoud verpakking
4-inch 4 MP 25X Powered by DarkFighter IR Network Speed Dome
Mount Bracket
Kenmerken
3D Digital Noise Reduction, Back Light Compensation (BLC), Cross Line Detection, Defog, Digital Wide Dynamic Range (D-WDR), Highlight Compensation (HLC), Region of Interest, Sabotagealarm, SD Card Local Storage, Sterkteregeling, Wachtwoordbescherming