Hikvision DS-2CD2T47G2P-LSU/SL Pro serie, 4MP ColorVu G2 180° panoramische IP bullet camera, 2,8mm vaste lens, IP67, wit
Merken:
Hikvision
Artikelnr #:311320494
Model #: DS-2CD2T47G2P-LSU/SL(2.8MM)(C)
Naam: Hikvision DS-2CD2T47G2P-LSU/SL Pro Series, 4MP ColorVu Panoramic IP Bullet Camera, 2.8mm Fixed Lens, IP67, White
Network camera - Helps achieve high-quality video results
CMOS sensor is cheaper as compare to CCD and consumes less power while producing better HD videos
2.80 mm maximum focal length with sharp output to help identify and locate the object with added efficiency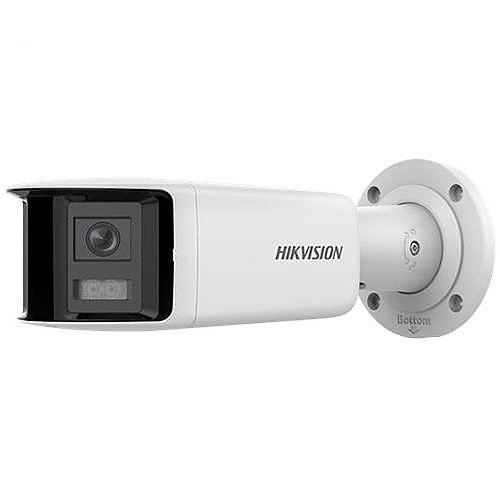 Productoverzicht
Algemeen Informatie
Hikvision ColorVu technology provides 24/7 vivid colorful images with F1.0 advanced lenses, high performance sensors and friendly lighting. F1.0 super-aperture collects more light to produce brighter images. Advanced sensor technology can vastly improve the utilization of available light.
Main Features
Network camera - Helps achieve high-quality video results
CMOS sensor is cheaper as compare to CCD and consumes less power while producing better HD videos
2.80 mm maximum focal length with sharp output to help identify and locate the object with added efficiency
f/1 maximum aperture for better light absorption and dependable, better-quality results
Provides night vision of objects at a distance of up to 40 m
Colour night vision type for better surveillance reliability and ensure maximum productivity
Fixed lens type is set all the way open to its lowest F stop, and is common on small form factor cameras
DC power source type for your network camera better reliance and maximum energy dependability
Back Light Compensation (BLC) feature for better reliance and usability
Wired connectivity technology helps you always stay connected to your network camera for maximum productivity
Categorie : Bullet Camera's, Producten, Video, IP Camera's
Specificaties
Algemene Informatie
Artikelcode fabrikant
DS-2CD2T47G2P-LSU/SL(2.8MM)(C)
Productmodel
DS-2CD2T47G2P-LSU/SL(2.8mm)(C)
Productnaam
4 MP Panoramic ColorVu Fixed Bullet Network Camera
Technical Information
Gezichtsveld
Horizontal FOV: 180°, Vertical FOV: 81°
Maximum Focal Length (mm)
Technische Informatie
Effectieve cameraresolutie
Videoformaten
H.264+, H.264B, H.264H, H.264M, H.265M, MJPEG, Motion JPEG, PAL, Smart H.265+
Belichting
Camera
Connectiviteitstechnologie
Night Vision Distance (mm)
Display & Graphics
Effective Camera Resolution (Pixel)
Energie
Interfaces/Poorten
Lens
Maximale brandpuntafstand
Netwerk & Communicatie
Omgeving
Maximale gebruikstemperatuur
Maximum Operating Temperature (°F)
Minimale gebruikstemperatuur
Minimum Operating Temperature (°F)
Opslag
Physical Characteristics
Duurzaamheid
Stofbestendig, Waterbestendig
Uiterlijke kenmerken