Hikvision DS-2XS6A87G1-L-C32S80 ColorVu IP67 4K 2.8mm vaste lens, IP bullet camera op zonne-energie, wit
Merken:
Hikvision
Artikelnr #:311316509
Model #: DS-2XS6A87G1-L/C32S80(2.8MM)
Naam: Hikvision DS-2XS6A87G1-L/C32S80 Solar-Powered Series ColorVu IP67 4K IP Bullet Camera, 2.8mm Fixed Lens, White
High quality imaging with 8 [email protected] 15fps resolution
24/7 Colorful imaging
Clear imaging against strong back light due to 120 dB true WDR technology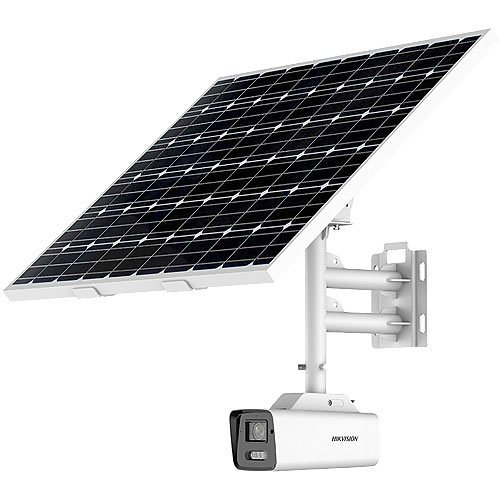 Productoverzicht
Algemeen Informatie
It can be used in the areas that are not suitable for laying wired network and electric supply lines, or used for the scenes that feature tough environment and have high demanding for device stability.
It can be used for monitoring the farms, electric power cables, water and river system, oil pipelines and key forest areas. It also can be used in the temporary monitoring scenes, such as the large-scale competitions, the sudden public activity, the temporary traffic control and the city construction. Hikvision ColorVu technology provides 24/7 vivid colorful images with F1.0 advanced lenses and high performance sensors. F1.0 super-aperture collects more light to produce brighter images. Advanced sensor technology can vastly improve the utilization of available light.
Empowered by deep learning algorithms, Hikvision AcuSense technology brings human and vehicle targets classification alarms to front- and back-end devices. The system focuses on human and vehicle targets, vastly improving alarm efficiency and effectiveness.
Main Features
High quality imaging with 8 [email protected] 15fps resolution
24/7 Colorful imaging
Clear imaging against strong back light due to 120 dB true WDR technology
Focus on human and vehicle targets classification based on deep learning
80 W photovoltaic panel, 30 Ah chargeable lithium battery (The battery should be ordered separately.)
Support battery management, battery display, battery high-low temperature protection, charge-discharge protection, low-battery sleep protection and remote wakeup
LTE-TDD/LTE-FDD/WCDMA/GSM 4G wireless network transmission, support Micro SIM card
Camera: Water and dust resistant (IP67)
Built-in 64 GB eMMC storage
Categorie : Video, Producten, IP Camera's, Bullet Camera's
Specificaties
Algemene Informatie
Artikelcode fabrikant
DS-2XS6A87G1-L/C32S80(2.8MM)
Productnaam
DS-2XS6A87G1-L/C32S80 Netwerkcamera
Technical Information
Gezichtsveld
Horizontal FOV: 101.6°, Vertical FOV: 52.4°, Diagonal FOV: 124°
Maximum Focal Length (mm)
Technische Informatie
Effectieve cameraresolutie
Videoformaten
H.265 (MP), Motion JPEG, Smart H.265+
Beeldscherm
Belichting
Camera
Connectiviteitstechnologie
Night Vision Distance (mm)
Display & Graphics
Effective Camera Resolution (Pixel)
Energie
Interfaces/Poorten
Lens
Maximale brandpuntafstand
Netwerk & Communicatie
Omgeving
Maximale gebruikstemperatuur
Maximum Operating Temperature (°F)
Minimale gebruikstemperatuur
Minimum Operating Temperature (°F)
Opslag
Physical Characteristics
Duurzaamheid
Stofbestendig, Waterbestendig, Wind Resistance
Productinformatie
Storage
Uiterlijke kenmerken