2MP 25X IR100m HDoC
Merken:
Hikvision
Artikelnr #:301205267
Model #: DS-2AE4225TI-D(E) WITH BRACKETS
Naam: Hikvision DS-2AE4225TI-D(E) Pro Series, 2MP 25x Optical Zoom Analog Speed PTZ Dome Camera, 4.8-120mm Lens, IR 100M, IP67
High quality imaging with 2 MP resolution
Excellent low-light performance via powered-by-DarkFighter technology
Clear imaging against strong back lighting due to 120 dB WDR technology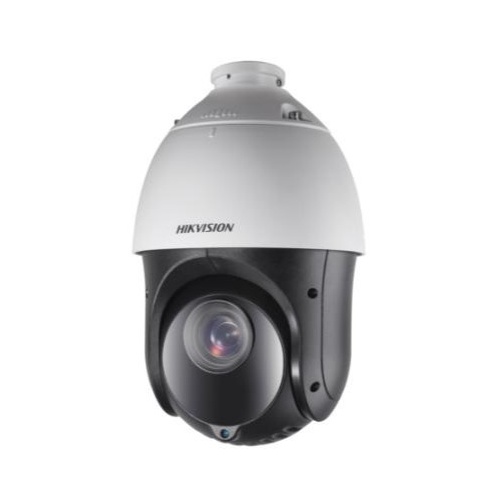 Productoverzicht
Algemeen Informatie
Hikvision DS-2AE4225TI-D(E) IR Turbo 4-Inch Speed Dome is able to capture high quality images in poor light environment. The black anti-reflective glass increases the luminousness which helps IR distance reach up to 100 m.
The embedded CMOS chip makes WDR, and real-time 1920 × 1080 resolution possible. With the help of the 25× optical zoom, and IR cut filter, the camera offers more details over an expansive area.
Main Features
High quality imaging with 2 MP resolution
Excellent low-light performance via powered-by-DarkFighter technology
Clear imaging against strong back lighting due to 120 dB WDR technology
Pan and tilt ability enables camera to monitor zones of interest
25 × optical zoom allows for closer viewing of subjects in expansive areas
Up to 100 m IR range ensures safety at night
Water and dust resistant (IP66)
Categorie : PTZ Camera's, Video, HDoC Camera's, Producten
Specificaties
Algemene Informatie
Artikelcode fabrikant
DS-2AE4225TI-D(E) WITH BRACKETS
Productnaam
4-inch 2 MP 25X Powered by DarkFighter IR Analog Speed Dome
Technische Informatie
Effectieve cameraresolutie
Gezichtsveld
Horizontal FOV: 57.6° to 2.5° (wide to tele)
Maximum Focal Length (mm)
Minimale brandpuntafstand
Beeldscherm
Effective Camera Resolution (Pixel)
Belichting
Camera
Connectiviteitstechnologie
Night Vision Distance (mm)
Energie
Lens
Maximale brandpuntafstand
Omgeving
Maximale gebruikstemperatuur
Maximum Operating Temperature (°F)
Minimale gebruikstemperatuur
Minimum Operating Temperature (°F)
Opslag
Productinformatie
Montage
Plafondsteun, Raam bevstiging, Vertical Mount, Wandmontage
Projectielens
Minimum Focal Length (mm)
Uiterlijke kenmerken
Duurzaamheid
Stofbestendig, Waterbestendig
Video
Overige
Inhoud verpakking
4-inch 2 MP 25X Powered by DarkFighter IR Analog Speed Dome
DS-1618ZJ Wall mount(short arm)
Kenmerken
3D Digital Noise Reduction, Auto Gain Control, Back Light Compensation (BLC), Electronic Image Stabilization, Highlight Compensation (HLC), Noise Reduction, Overspanningsbeveiliging, Privacy Masking, Region of Interest, White Balance, Witbalans