AXIS 02209-001 90 W Midspan AC-DC, Plug-and-Play, compatibel met Axis PoE-apparaten
Merken:
AXIS Communications
Artikelnr #:02209-001
Model #: 02209-001
Naam: AXIS Midspan AC-DC, Plug-and-Play, Compatible with Axis PoE Devices, 90W (02209-001)
Delivers 90W to a Network Device
Single Output Port
Shielded RJ45 Connectors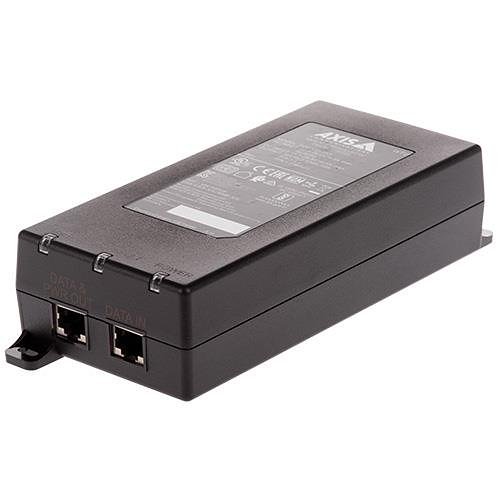 Productoverzicht
Algemeen Informatie
AXIS 90 W Midspan AC/DC is voor installaties waar netvoeding geen optie is. Met een ingangsvermogen van 24 V AC of 20-26,4 V DC, het kan tot IEEE 802.3bt (90 W) leveren aan het netwerkapparaat. 24 V AC kan nodig zijn in zware omgevingen waar nieuwe bekabeling of installaties geen optie zijn en u box-, dome- of PTZ-camera's achteraf moet inbouwen. 20-26,4 V DC kan worden gebruikt waar batterijback-up nodig is of voor installaties op zonne-energie. Of wanneer het netwerk apparaat is ingebouwd in een ander apparaat en wordt er rechtstreeks van gevoed.
Main Features
Plug and play
Ideaal voor installaties waar netvoeding geen optie is
24 V AC en 20-26,4 V DC ingang
Tot IEEE 802.3bt (90 W) uitgang
Ideaal voor het achteraf inbouwen van PTZ
Compatibel met Axis PoE-apparaten
Flexibele installatie
Categorie : PoE Injectoren, Data Comm & Netwerken, Producten, PoE Apparaten
Specificaties
Algemene Informatie
Energie
Ingangsspanning
12 V DC, 20 V DC, 26.4 V DC
Maximale uitgangsspanning
Garantie
Interfaces/Poorten
Uiterlijke kenmerken
Vormgeving
Op wand/plank/DIN-rail monteerbaar
Overige
Inhoud verpakking
90 W Midspan AC/DC
Installation Guide