AXIS P3935-LR P39 serie, IP67 2MP 2.8mm vaste lens IP dome camera, wit
Merken:
AXIS Communications
Artikelnr #:01932-001
Model #: 01932-001
Naam: AXIS-P3925-LR P39-Series 2MP Transit IR Dome Camera, 2.8mm Fixed Lens, 10-Pack
Vandal-resistant, metal casing
Complies with EN50155, EN45545, and NFPA 130
Lightfinder and Forensic WDR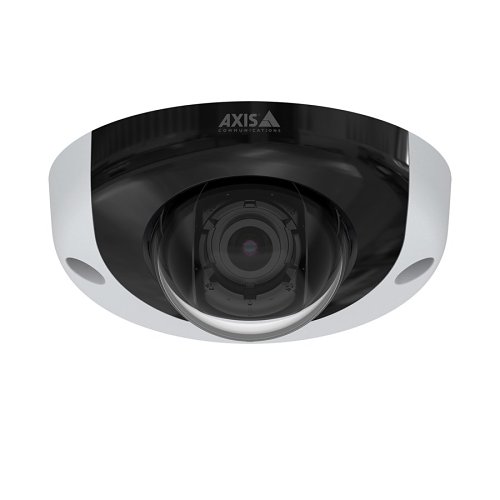 Productoverzicht
Algemeen Informatie
AXIS P3935-LR is specially designed for surveillance onboard vehicles and rolling stock such as trains, buses, and emergency vehicles. This robust, vandal-resistant camera offers improved imaging, IR and microphone, enhanced security features, and extended capabilities for analytics.
Superior image quality for onboard surveillance, 24/7
AXIS P3935-LR is packed with useful features ideal for onboard surveillance and changing light conditions. It offers Axis Forensic WDR for high-quality images even when there's both dark and light areas in the scene and Axis Lightfinder for sharp, color images in poor lighting conditions. This is particularly useful when a vehicle goes into a tunnel or under a bridge. And thanks to a built-in invisible IR LEDs (940 nm), it can be used for video surveillance in complete darkness that won't distract the driver or passengers. Furthermore, it can be mounted forward-facing on the vehicle's dashboard and record everything from the driver's perspective, ideal for police vehicles and ambulances. Plus, in this scenario, electronic image stabilization (EIS) ensures stable video when the camera is subject to vibrations, perfect for capturing scenes outside the vehicle.
Optimized for transportation industry
Specifically designed for onboard surveillance, AXIS P3935-LR complies with transportation industry regulations including EN50155, EN45545, and NFPA 130. This robust dome camera comes in an IP66-, IP67-rated metal casing that protects it against water, corrosion, and dust. The casing is also vandal resistant with IK10 rating. For added peace of mind, it offers block view detection, so you're informed if the camera view is blocked by objects or spray paint, or if the camera is out of focus. With product versions including M12 and RJ45 connectors, it can be easily installed in any kind of vehicle. AXIS P3935-LR has powerful capacity for analytics so it's easy to add whatever analytics you need. Furthermore, it comes with a built-in microphone and external microphone input, allowing for audio surveillance and detection.
Keeping you secure
AXIS P3935-LR is crammed with advanced security functionality to prevent unauthorized access and safeguard your system. Signed firmware and secure boot guarantee that the firmware hasn't been altered and ensure only authorized firmware is installed. And if needed, secure boot guarantees that the camera is completely free of malware after a factory default.
Main Features
Full HDTV 1080p fixed dome onboard camera for rolling stock and vehicles with female M12 D-coded connector.
Invisible 940-nm IR LEDs, I/O for alarm/event handling, built in microphone and external microphone input or line input.
Equipped with 2.8mm, F1.2 lens in ruggedized IP66/IP67 and IK10 rated metal casing.
Multiple, individually configurable H.264, H.265 and Motion JPEG streams.
Forensic WDR, Lightfinder 2.0 technology and removable IR-cut filter for day/night functionality.
Axis Zipstream technology for reduced bandwidth and storage needs, microSD/m icroSDHC/microSDXC memory card slot for optional local video storage.
Includes lens tool, L-key, and drill template.
Categorie : Dome Camera's, IP Camera's, Video, Producten
Specificaties
Technische Informatie
Effectieve cameraresolutie
Gezichtsveld
Horizontal field of view: 110° - Vertical field of view: 62°
Maximum Focal Length (mm)
Beeldscherm
Belichting
Camera
Connectiviteitstechnologie
Night Vision Distance (mm)
Garantie
Interfaces/Poorten
Lens
Maximale brandpuntafstand
Netwerk & Communicatie
Omgeving
Maximale gebruikstemperatuur
Maximum Operating Temperature (°F)
Minimale gebruikstemperatuur
Minimum Operating Temperature (°F)
Opslag
Productinformatie
Montage
Bracket Mount, Plafondsteun DS-1299ZJ, Wandmontage