AXIS Software eLicentie voor Nummerplaatcontrole
Merken:
AXIS Communications
Artikelnr #:01574-001
Model #: 01574-001
Naam: AXIS License Plate Verifier Series Software eLicense (01574-001)
Ideal for freeflow traffic up to 70 km/h (45mph)
Perfect for vehicle access control
Easy administration and support for allow- and blocklists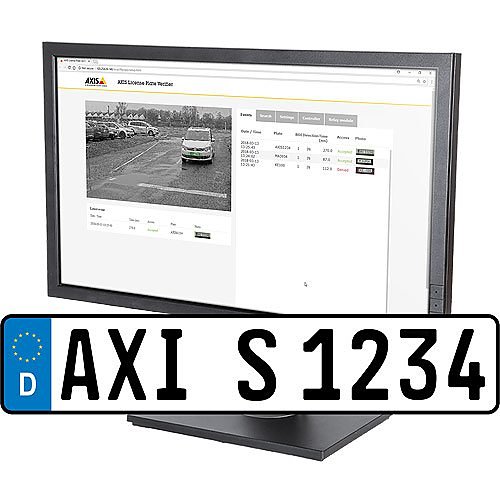 Productoverzicht
Algemeen Informatie
Main Features
LICENSE PLATE VERIFIER 1P E-LICENSE
Single unit e- license for AXIS License Plate Verifier.
AXIS License Plate Verifier is an AXIS Camera Application Platform software that can be used in selected Axis cameras (ideally with I/O ports for direct control of a vehicle access barrier and built-in IR illumination)
allows vehicle entry/exit into a controlled area such as a parking lot.
Please check the supported countries (https://www.axis.com/files/pods/axis_license_plate_verifier_supported_c ountries.pdf) before ordering.
Visit www.axis.com for supported products and application download.
Main Features
Ideal for freeflow traffic up to 70 km/h (45mph)
Perfect for vehicle access control
Easy administration and support for allow- and blocklists
Categorie : Video, Software-licenties, Software & Licenties, Producten
Specificaties
Algemene Informatie
License Information
Productinformatie