Dahua XVR5104HS-I3 WizSense 4-kanaals 5M-N 1080P Penta-Brid HDCVI DVR, 32Mbps, Compact 1U, 1HDD
Merken:
Dahua Technology
Artikelnr #:XVR5104HS-I3
Model #: DH-XVR5104HS-I3
Naam: Dahua XVR5104HS-I3 WizSense 1080p 4-Channel Compact Pentabrid DVR, 128Mbps, 1U RMS, Supports 1 SATA HDD (Not Included)
Supports Full-channel AI-Coding
Supports HDCVI/AHD/TVI/CVBS/IP video inputs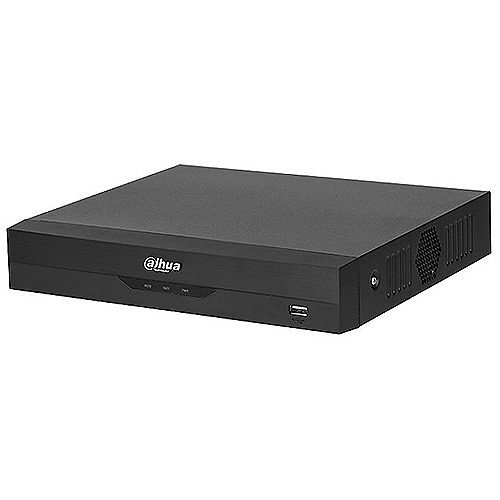 Productoverzicht
Algemeen Informatie
Launched by Dahua Technology, WizSense is a series of AI products and solutions that adopt independent AI chips and deep learning algorithms. It focuses on humans and vehicles with high accuracy, enabling users to fast act on defined targets. Based on Dahua's advanced technologies, WizSense provides intelligent, simple, and inclusive products and solutions.
Series Overview
Dahua Technology, a world-leading video-centric smart IoT solution and service provider, debuted its new XVR series, XVR5000-I3 featuring full-channel SMD Plus (except for 32-channel devices) to benefit customers from AI upgrade. The series is designated to reduce false-alarm rates and human surveillance costs, thus bringing great value to customers in search of products with accurate human/vehicle alarms to raise the security level of various indoor and outdoor facilities.
Functions Real Time Face Recognition
Video stream real time face recognition. Facial attributes analysis features include gender, age, expression, glasses, mustache, and mouth mask. Identify people and also capture, and record faces with metadata. Facial feature filtering while real-time display, only shows faces with target features.
Face Recognition takes effect when Face is selected in AI Mode.
Perimeter Protection
Automatically filtering out false alarms caused by animals, rustling leaves, bright lights, etc. Enables the system to act as secondary recognition for the targets. Improving alarm accuracy. Perimeter Protection takes effect when IVS&SMD is selected in AI Mode.
SMD Plus
SMD Plus, referred to as Smart Motion Detection Plus, is an upgraded version of SMD that greatly improves alarm accuracy by loading a deep-learning algorithm. It analyzes person and vehicle shapes based on motion detection and sends alarms only when a person and vehicle intrude.
SMD Plus takes effect when SMD or IVS&SMD is selected in AI Mode.
AI Coding
Compared with H.265, AI codec can reduce up to 50% bit rate and storage requirements while having no loss of decoding compatibility, providing clear human and vehicle details.
Smart H.265+
Smart Codec, H.265+ can reduce up to 90% bit rate and storage requirements compared with H.264 without having to invest in new cameras.
HDCVI/AHD/TVI/CVBS Auto-detect
The XVR can auto-recognize the signal of the front camera without any setting. It makes operations more friendly and convenient.
High Definition Camera Input
The XVR supports up to 5MP HDCVI camera and 6MP IP camera input.
Coaxial Audio/Upgrade/Alarm
The integrated design can reduce wiring troubles which makes it much more cost-effective and convenient for installation.
Long Distance Transmission
The HDCVI system supports long-distance transmission over coaxial cable and UTP, max. 700 m for 4K/4MP, 800 m for 1080p and 1200 m for 720p.
AI Search
Extract and classify persons and vehicles from massive video data, easy for end users to trace historical information and analyze. Person & Vehicle optional for playback to achieve quick target search, saving event retrieval time.
Main Features
Supports Full-channel AI-Coding
Supports HDCVI/AHD/TVI/CVBS/IP video inputs
Categorie : DVR's, Video, Opnameapparatuur, Producten
Specificaties
Algemene Informatie
Fabrikant
Zhejiang Dahua Technology Co., Ltd.
Productnaam
4 Channel Penta-brid 5M-N/1080p Compact 1U 1HDD WizSense Digital Video Recorder
Technische Informatie
Videoformaten
H.264+, Motion JPEG, PAL, Smart H.265+
Camera
Connectiviteitstechnologie
Energie
Interfaces/Poorten
Totaal aantal audio-ingangspoorten
Totaal aantal audio-uitgangspoorten
Netwerk & Communicatie
Uiterlijke kenmerken
Video