Paxton10 010-480 Pro Series, Ultra Low Light IP67 4K 2,8mm vaste lens, IR 30M IP turret camera, wit
Merken:
Paxton Access
Artikelnr #:010-480-NL
Model #: 010-480-NL
Naam: Paxton 010-480 Pro Series, Ultra Low Light IP67 4K 2.8mm Fixed Lens, IR 30M IP Turret Camera, White
8MP, 4K resolution for crystal clear recording
256GB on camera storage included as standard
Industry leading low light performance (0.003 Lux)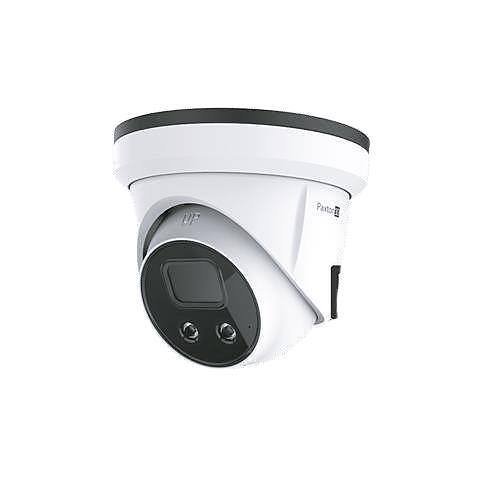 Productoverzicht
Algemeen Informatie
Informatie – De Paxton10 Turret camera's zijn breed inzetbaar en geschikt voor verschillende omgevingen en situaties. De Turret camera's kunnen daarnaast binnen en buiten toegepast worden en kunnen zowel aan de muur of aan het plafond gemonteerd worden. De 8MP Turret is voorzien van een 2.8 mm vaste lens. Doordat de infrarood LED's naast de camera lens geplaatst zitten hebben Turret camera's geen last van infrarood reflectie. De Paxton10 camera's zijn speciaal ontworpen voor gebruik met het Paxton10 systeem. Door gebruik te maken van IPv6 technologie is de installatie en configuratie zeer eenvoudig. De video opnames worden op de camera verwerkt, hierdoor is er geen NVR of andere hardware nodig. De videobeelden kunnen op de camera of op een netwerkschijf opgeslagen worden. Uitvoeringen – Paxton10 Turret Camera's zijn beschikbaar in; Core & Pro en daarom geschikt voor verschillende omgevingen en situaties. Installatie – Paxton10 Camera's zijn voorzien van de nieuwste technologie en onze eigen video management software, waardoor er geen configuratie nodig is. Paxton10 Camera's zijn plug & play. De camera's worden via TCP/IP rechtstreeks op het netwerk aangesloten en gevoed en zullen daarna automatisch zichtbaar zijn in de Paxton10 Software onder het apparaten menu. Hierna kunt u de camera toevoegen en de juiste naam geven, er is geen verdere IP configuratie nodig. Netwerk – Voor meer informatie over de geadviseerde Client PC- en Netwerk specificaties klik hier Opslagruimte berekenen – Om u te helpen een schatting te maken voor benodigde opslagruimte hebben we een handige calculator beschikbaar. Voer de aantallen en specificaties van uw Paxton10 Camera's in en maak zo een schatting van de benodigde opslagruimte. Eigenschappen 8MP ultra low light sensor met een maximale resolutie tot 4K 256GB Micro SD kaart voor edge recording IP67 classificering Te monteren op een wand of plafond Volledig metalen behuizing Infrarood nachtzicht tot 30 meter 120dB Wide Dynamic Range (WDR) Voeding door middel van 12VDC of PoE (af ) Lichtgevoeligheid 0.003 Lux Diafragma van F1.6 Vast brandpuntafstand van 2.8mm Handige informatie – Er zijn verschillende standaard camera beugels beschikbaar via de technische groothandel. * De SD-kaart is geen product van Paxton en valt daarom niet onder de 5 jaar garantie van Paxton. ** Wanneer u een Paxton10 Camera wilt koppelen aan uw Paxton10 systeem dient uw systeem voorzien te zijn van minimaal één Paxton10 Deurcontroller. *** Standaard worden de videobeelden opgenomen op de ingebouwde MicroSD kaart van de camera (edge recording), optioneel kunt u de videobeelden op nemen op een NAS of gedeelde netwerkschijf. Het is niet mogelijk om de videobeelden van een Paxton10 Camera op te nemen op een Paxton10 Video controller. ****De Pro camera's zullen ook geschikt zijn voor de toekomstige functie Paxton Analytics.
Main Features
IP67 classificering
8MP ultra low light sensor met een maximale resolutie tot 4K
Voeding door middel van 12VDC of PoE (af)
Infrarood nachtzicht tot 30 meter
Turret Camera voor gebruik met het Paxton10 systeem
256GB Micro SD kaart voor edge recording
Categorie : IP Camera's, Producten, Video, Turret Camera's
Specificaties
Algemene Informatie
Productnaam
Paxton10 Turret Camera - PRO series
Technische Informatie
Effectieve cameraresolutie
Gezichtsveld
horizontal FOV: 102°, vertical FOV: 55°, diagonal FOV: 120°
Maximum Focal Length (mm)
Beeldscherm
Effective Camera Resolution (Pixel)
Camera
Connectiviteitstechnologie
Night Vision Distance (mm)
Energie
Garantie
Interfaces/Poorten
Lens
Maximale brandpuntafstand
Netwerk & Communicatie
Omgeving
Maximale gebruikstemperatuur
Maximum Operating Temperature (°F)
Minimale gebruikstemperatuur
Minimum Operating Temperature (°F)
Opslag
Productinformatie
Montage
Plafondmontage, Wandmontage
Uiterlijke kenmerken